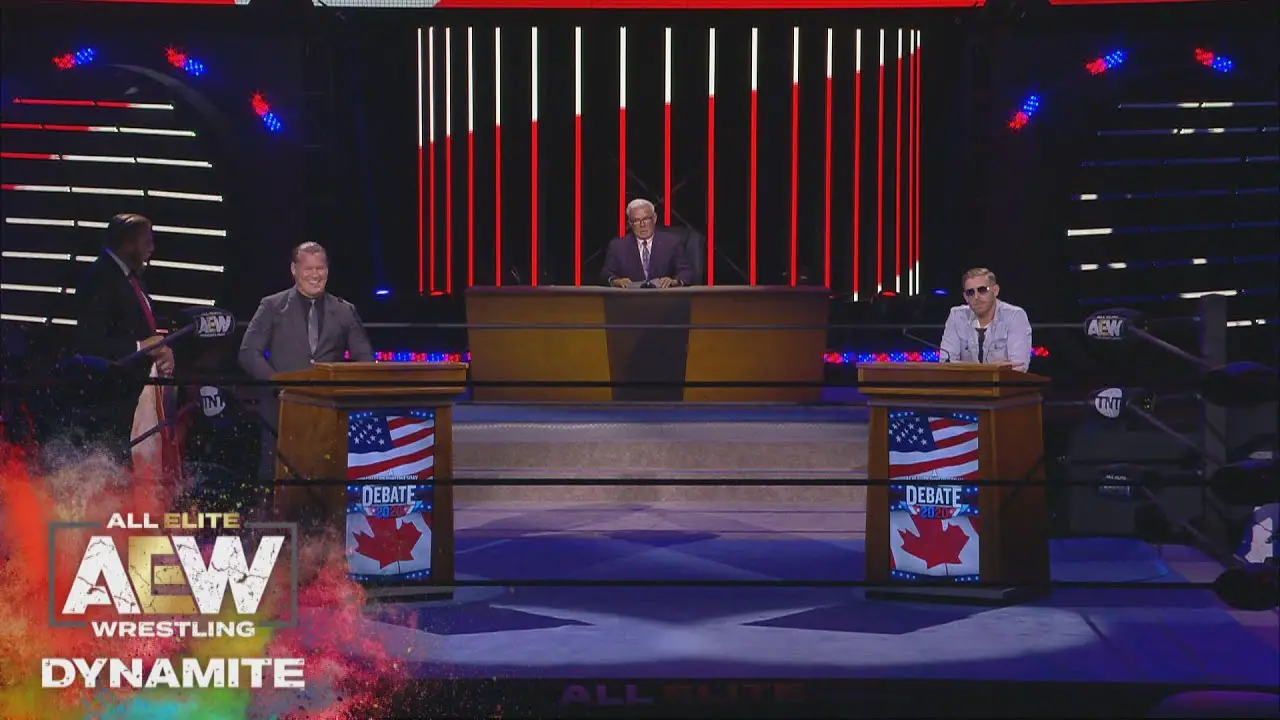 Top AEW Star "Le Champion" Chris Jericho and "Freshly Squeezed" Orange Cassidy had a face-to-face debate during last night's episode of Dynamite. There were rumors and speculations on who will guest moderate the debate after it was announced and hyped by Jericho that the moderator will be someone who is a legend in the industry. The guest moderator ended up as none other than Eric Bischoff.
Bischoff was sitting from a table on the stage as he was asking Jericho and Cassidy a number of questions. This was reportedly the first time Bischoff has made an appearance on Dynamite and the first time he has made an appearance on TNT in over 20 years. Jericho and Cassidy answered five questions and at the end of the segment, Bischoff announced Cassidy as the winner.
Chris Jericho and Jake Hager would then go on and attack Cassidy following the debate with Jericho. Jericho would then knock Cassidy out with his judas effect finisher. Next week's episode of Dynamite will see Jericho and Cassidy face each other in their rematch.
You can check out the highlights from the segment in the videos below:
.@EBischoff has arrived and is your special guest moderator in this debate!

Watch #AEWDynamite NOW on @TNTDrama or https://t.co/GdI7QAsxEP for our International fans. #AEWonTNT @AEWonTNT pic.twitter.com/PeXshzvgQT

— All Elite Wrestling (@AEWrestling) August 6, 2020
---
"People laugh at you behind your back. You're a joke, critics, historians, experts, they laugh at everything you do – and so do I" – @IAmJericho.

Watch #AEWDynamite NOW on @TNTDrama or https://t.co/GdI7QAsxEP for our International fans. #AEWonTNT @AEWonTNT pic.twitter.com/NJQmU9Rcdt

— All Elite Wrestling (@AEWrestling) August 6, 2020
---
.@orangecassidy has totally dressed up for this event!

Watch #AEWDynamite NOW on @TNTDrama or https://t.co/GdI7QAsxEP for our International fans. #AEWonTNT @AEWonTNT pic.twitter.com/a1S0KObegN

— All Elite Wrestling (@AEWrestling) August 6, 2020
---
"Who is the better wrestler? And who is the biggest star? @IAmJericho? Or @orangecassidy?" – @EBischoff.

Watch #AEWDynamite NOW on @TNTDrama or https://t.co/GdI7QAsxEP for our International fans. #AEWonTNT @AEWonTNT pic.twitter.com/ydeVMbGFu1

— All Elite Wrestling (@AEWrestling) August 6, 2020
---
"Why does this rematch mean so much to both of you" – @EBischoff.

Watch #AEWDynamite NOW on @TNTDrama or https://t.co/GdI7QAsxEP for our International fans. #AEWonTNT @AEWonTNT pic.twitter.com/84ZxCcoPAo

— All Elite Wrestling (@AEWrestling) August 6, 2020

Former WWE Star Rusev (Miro) Debuts On AEW Dynamite