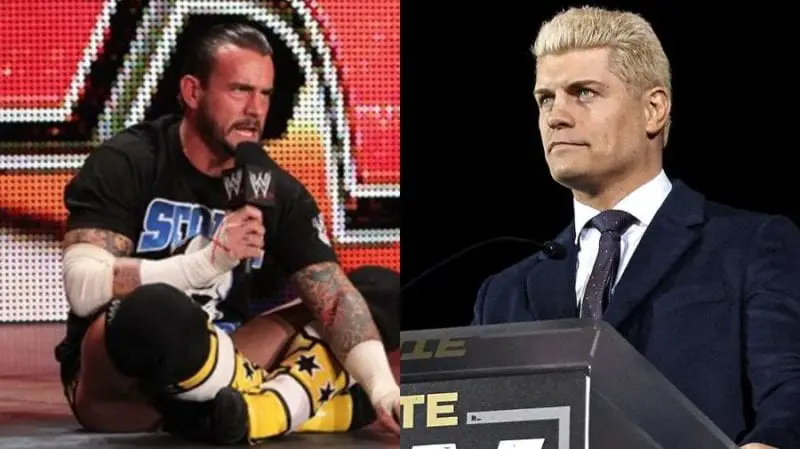 As previously reported, former WWE Superstar CM Punk was recently interviewed by ESPN on a number of topics including his upcoming appearance at next month's Starrcast III Convention in Chicago. CM Punk was also asked about his relationship with All Elite Wrestling, how fans expect him to show up at All Elite Wrestling's All Out PPV Event and the offer he received from the promotion.
All Elite Wrestling Executive Vice President Cody Rhodes recently took to his Twitter and responded to a fan who asked him about the comments CM Punk made in his ESPN interview. CM Punk said the following when asked about the offer he received from All Elite Wrestling:
"The last thing I got — I got a text from Cody [Rhodes]. And again, I almost don't even know how to reply to them sometimes, because if I reply, they do interviews and are like, "Oh yeah, I just talked to Punk." I'm kind of damned if I do, damned if I don't. I always think if somebody wants to do business with me, they can come talk to me. Texting offers isn't really a way to do good business, at least."
"It was texted through three people and an offer came in through text. This is like a month ago, maybe."
Punk was also asked if the offer was for All Out. CM Punk said: "I think it was just a general offer. I never could have done the last one in Vegas [Double or Nothing], because I was in California for CFFC."
Regarding the above comments made by CM Punk, Cody Rhodes said that he thinks CM Punk was misquoted and that one of them did meet CM Punk in person. Cody Rhodes also said that a contracted offer was not made to CM Punk.
This is what Cody Rhodes said: "I think he was misquoted. I know 1 of us had met with him in person, and yes I texted him plenty when we couldn't connect on the actual phone, but not a contracted offer. I wouldn't be surprised if he went back to WWE. Regardless, great wrestler & guy. Door is open if he wants it."
You can check out Cody Rhodes' full tweet below:
Be sure to join our
WWE / AEW Discord server
and connect with other pro wrestling fans.
---