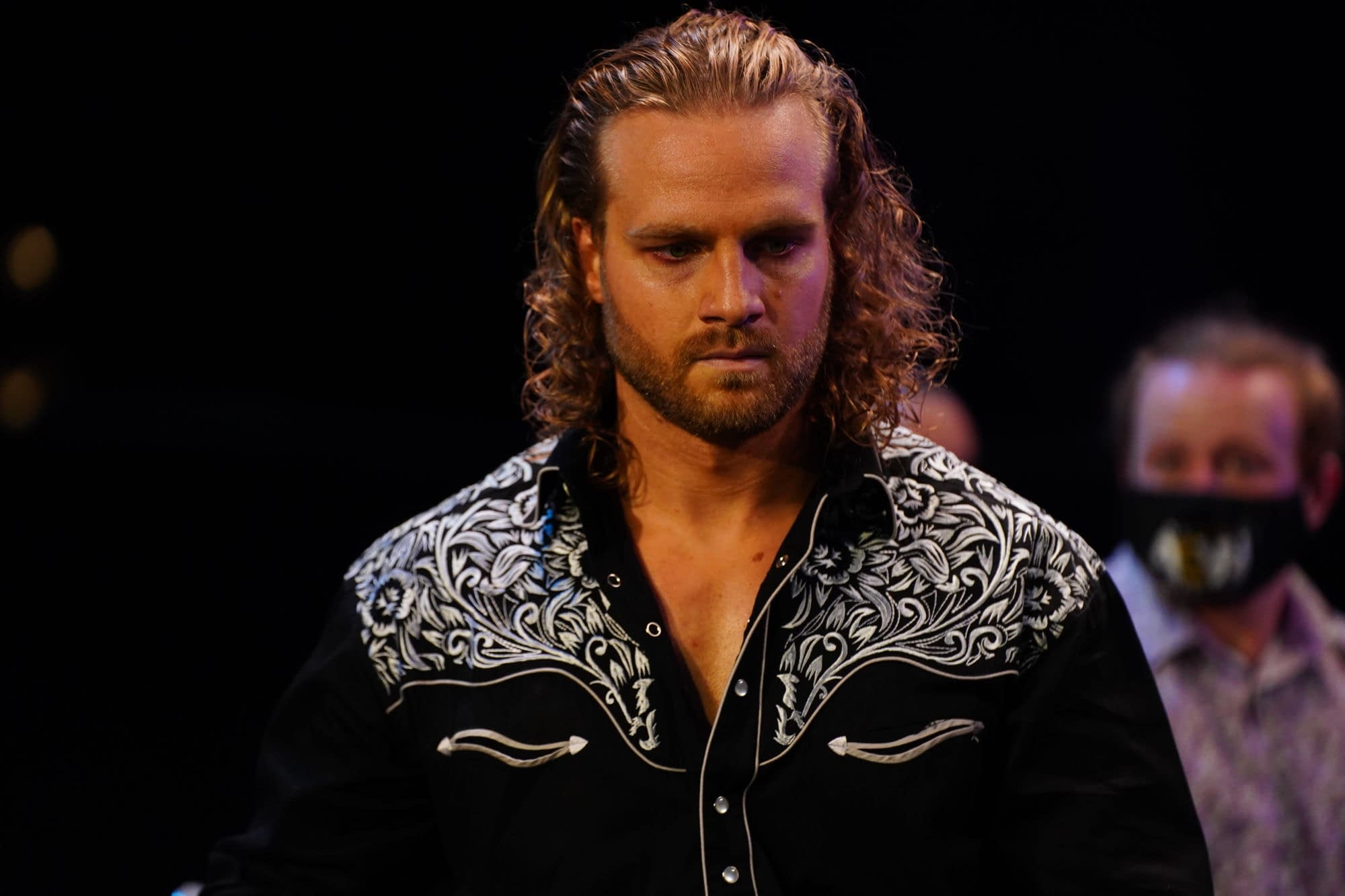 Perhaps the word 'misunderstanding' comes to mind, but many have commented on Hangman Adam Page's recent tweet where he seemingly admonishes writer Chris Brosnahan for "editorializing" his career.
But the confusion stems primarily from the fact that one Adam Page was unhappy about how Brosnahan's words came across, despite the fact that they were seemingly positive in nature as well.
Many on Twitter suggested that the comments made by Brosnahan were in fact positive, as stated, but Page didn't seem to like the way they came off.
Chris Brosnahan's sentiments were expressed in a tweet where he stated:
"So, for the non (or lapsed) wrestling fans, I'm going to explain why this guy is at the centre of the greatest, most agonizing, most wholesome pro-wrestling story in years. And it's a story that's about to hit the home stretch."

via Twitter/ @ChrisBrosnahan
Page replied with a scathing remark of his own:
"don't you hate it when some (expletive) editorializes your life like you're some kind of circus act"

via Twitter/ @theAdamPage
Page, retweeting the comments as well as the original tweet, left many confused. Comments ranged from sentiments of support for Adam Page, but as well as in defense of Brosnahan. One user, @dannadelmondo went as far as simply tweeting: "If anything, it has made more people support you and want you to be successful."
It seems as though Page and Omega will soon be butting heads and for many fans of AEW and Page, that it's about time. That sentiment is shared by many (this writer included), but one could assume that perhaps Page took the tweet and the attention it spawned as possibly condescending in nature.
For someone in the public eye—specifically the wrestling business—Page shouldn't be that sensitive, we can perhaps all agree, but he delivered a point nonetheless: perhaps his rise and the work that he did cannot simply be summed up in one editorial comment, no matter what was included.
Maybe what he went through in his journey to get to that point cannot be summed up in words at all, and maybe the culmination of his journey was harder and much more arduous than what came across on social media.
Just playing Devil's advocate here (I hate that expression, but hey what can you do?).
And what of his journey?
It's been a long one for the 29 year old professional wrestler, one that has not yet set foot in WWE territory, which cannot be said for the rest, or rather most of the AEW roster.
He graduated from high school in 2009, but started wrestling a year prior. He was trained by Jimmy Valiant who wrestled for Vincent J. McMahon (Vince's father) in the World Wide Wrestling Federation throughout the 70s. Page, his birth name being Stephen Blake Woltz, wrestled on the independent circuit for 10 years…touching down in ROH, New Japan Pro, Pro Wrestling Guerilla, and finally signing with AEW in 2019, the year of the company's inception and debut onto the scene.
In the end, perhaps the summing up of a career is difficult to accomplish. What are missing in miniature bios and editorials sometimes are the sweat, blood, sacrifice and dedication, but the way we read the tweet, it wasn't meant to belittle anything he had accomplished thus far. Page certainly didn't think it appropriate and in the end, and to avoid editorializing, we'll just report the news, wish Page the absolute best, and leave it at that.
Page and Omega held the tag titles for a time and had an impressive run with a rather climactic end…the two facing off at Full Gear (2020) and Page falling to the One Winged Angel. Due to some events on recent episodes of Dynamite, the two could be facing off and very soon; perhaps even at Fight for the Fallen, to the delight of many.