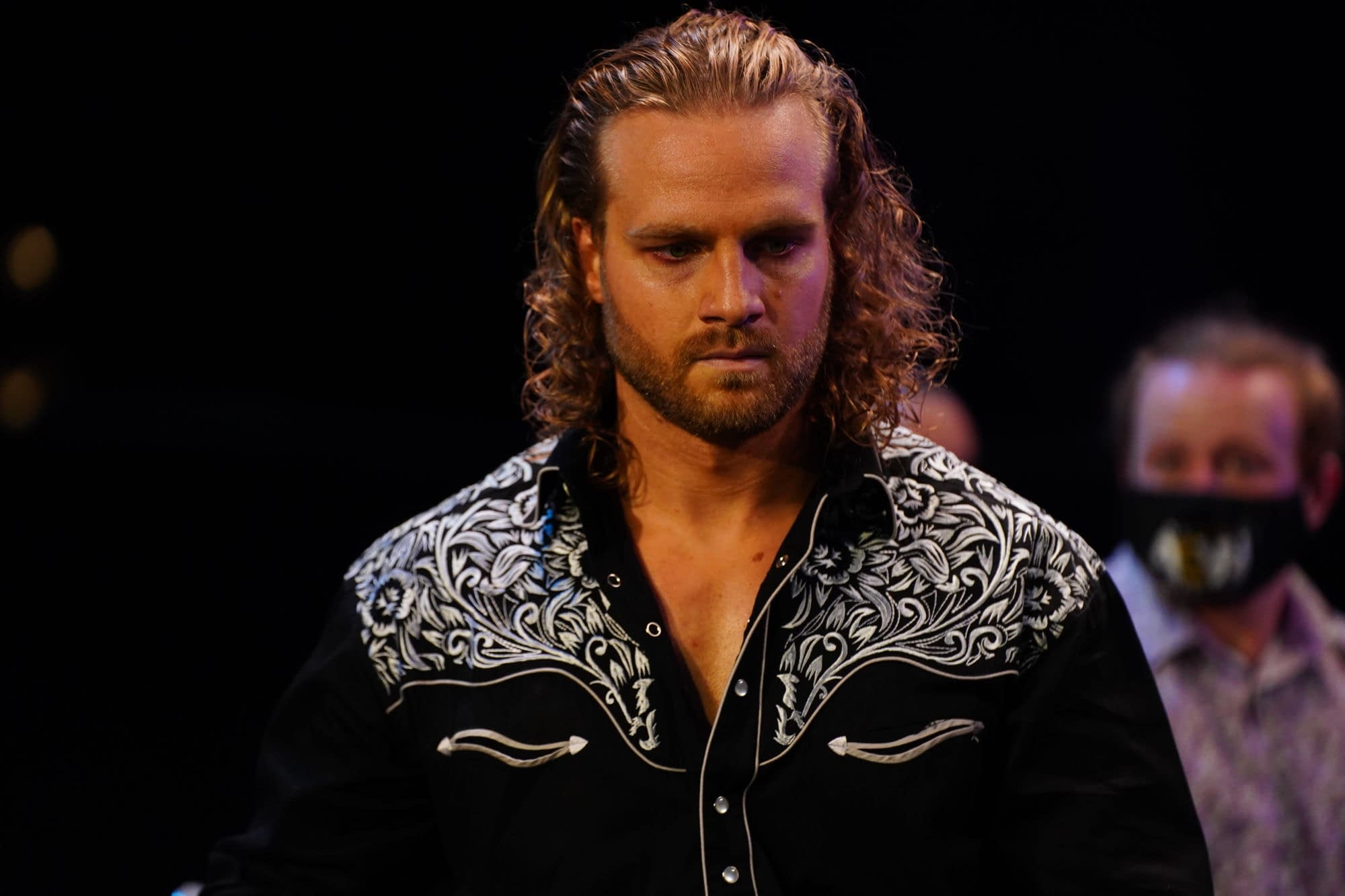 This past Wednesday's Fight For The Fallen episode of Dynamite featured The Elite (AEW World Champion Kenny Omega, AEW World Tag Team Champions The Young Bucks and IMPACT Wrestling Tag Team Champions The Good Brothers) taking on Hangman Page and Dark Order in a 10-Man Elimination Tag Team Match, with the stipulation that if Hangman and Dark Order wins, then Hangman earns a shot at Omega's AEW World Title and Dark Order earns a shot at the Young Bucks' AEW World Tag Team Titles, but unfortunately Page and Dark Order came up short and now they will not be able to challenge for the titles in their division.
There were reports released several days back that indicated that the plan for Hangman Page to battle Kenny Omega for Omega's AEW World Title no longer exist and has been nixed and that Christian Cage is now Kenny Omega's challenger, but that has not been confirmed yet. Dave Meltzer mentioned on a recent edition of the Wrestling Observer Radio Program that not only will Hangman Page no longer take on AEW World Champion Kenny Omega at All Out, but he is also not scheduled to appear at the PPV Event in any capacity. There is no word yet on why Hangman Page has been removed from All Out, but the possibility of CM Punk and Daniel Bryan signing with AEW may have been a factor.
This is what Dave Meltzer said:
"Yeah, not on the show. And yeah, I don't know who Omega is wrestling. Obviously from the TV, it looks like Christian. That's just the situation."
It has been speculated that Kenny Omega will still face Hangman Page, but there's no word yet on when the match will happen. AEW's All Out is set to take place on Sunday, September 5th from the NOW Arena in Hoffman Estates, Illinois near Chicago.

AEW Women

#sp-player-gallery-4352 { margin: auto; } #sp-player-gallery-4352 .gallery-item { float: left; margin-top: 10px; text-align: center; width: 33%; } #sp-player-gallery-4352 img { border: 2px solid #cfcfcf; } #sp-player-gallery-4352 .gallery-caption { margin-left: 0; } /* see gallery_shortcode() in wp-includes/media.php */