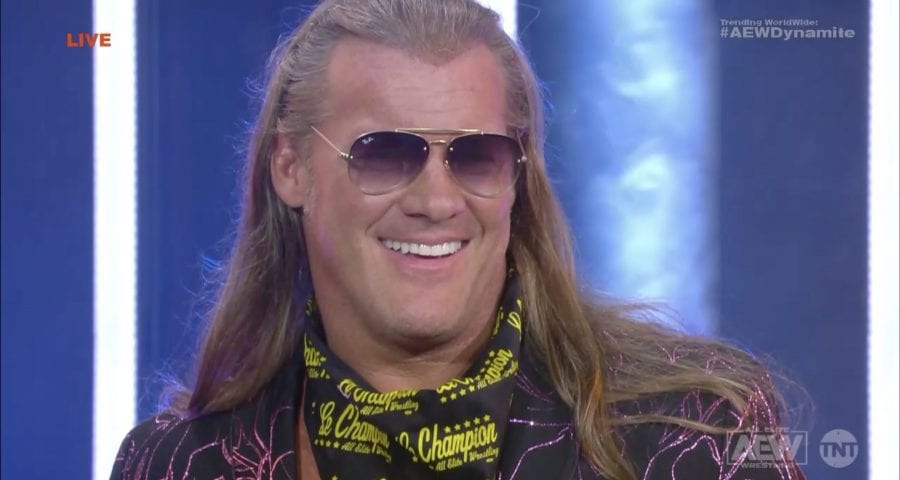 Top AEW Star Chris Jericho was recently interviewed by ESPN on a number of topics, which includes the reaction of Mike Tyson in AEW and how ratings went up, a potential match between himself and Mike Tyson, using a WWE storyline angle and more.
Below are the highlights from the interview:
On the reaction of Mike Tyson in AEW and how ratings went up:
"Absolutely a home run all across the board, especially for AEW as a company. We have done so much over the past year by just being in existence. Everybody that knows wrestling knows who we are. That's why we have such a great fan base. But what we did last night was get headlines from every major sports publication saying Mike Tyson makes his mark in an AEW ring with Chris Jericho. All of that is company branding, where people go, "Wow, we've heard of this AEW, but we didn't realize they were that big." Or, "Who is this AEW?" Mike Tyson draws eyeballs. Chris Jericho draws eyeballs. But Tyson is gonna draw the type of coverage that I can't get, because I'm not as mainstream as him."
On a potential match between himself and Mike Tyson:
"Obviously, the idea is to do something more. That's the thought process, I think between both parties. What that is at this moment, we're thinking and discussing. Look, Chris Jericho versus Mike Tyson in a wrestling match, in a street fight, in a boxing match, would be big. I'm not Mike Tyson. I'm not 1/1,000th of Mike Tyson, but I've been boxing for six years. I know how to box. I could win fights on my own against people of my skill level. So if that's what he wants to do, that works too. Whatever he feels comfortable with, I can make it good. That's what I do for a living. That's what I've been doing for 30 years. But to me it's the buildup and the angle and all the things we can do. That's what wrestling is all about — the storyline. The match is the cherry on top. But it's the build that's really the most entertaining part, and the part that gets people really involved. So whatever it is that we decide to do as we move forward, it'll be great. You have one of the most iconic boxers — and most iconic personalities — of all time against one of the greatest pro wrestlers and personalities of all time. It writes itself."
On using a WWE storyline angle:
"It's a WWE angle? It's a Chris Jericho angle. I was there. I don't just wash away my entire 19-year history with the WWE. That's ludicrous. Anybody criticizing that this was a WWE angle and we brought it over here — this is my life. It's my story. Tyson knocked out Chris Jericho. He didn't knock out Chris Jericho and The Rock and Hulk Hogan and Triple H and Kurt Angle. He knocked me out. That's my story. It's like if I write a song and it's a huge hit and I released it on Sony records and then I signed with Warner Bros. and rerecorded the song. It's my song."
On using an athlete from a different sport:
"If we hadn't had Mike Tyson on the show last night, you and I wouldn't even be speaking right now. That's the reason why. We were focusing people to know what AEW is, to grow the audience, to grow our fan base. And that's how you do it. It's the same reason how AEW was able to get wrestling fans by bringing Chris Jericho in as the bridge. "Well, Jericho is there, we'll check this out. Oh, we really like this." Now you use Mike Tyson as the bridge. "If Mike Tyson is there, let's check this out. Wow, it's not just Jericho and Tyson." You get to see the whole roster of performers we have here and you realize this company kicks ass. That's why you do it. You do it smartly. You bring in the right person with the right opponent at the right time. There's nobody hotter in the sports world than Mike Tyson."
Be sure to join our
WWE / AEW Discord server
and connect with other pro wrestling fans.
---