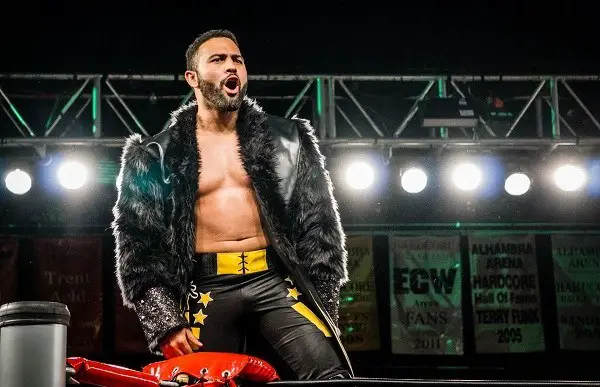 Top NJPW Star Rocky Romero was recently a guest on the Wrestling Inc. Daily podcast, where he spoke about a number of topics, including the current relationship of ROH and NJPW, and the Good Brothers as well as a possible future collaboration with All Elite Wrestling.
Below are the highlights from the podcast:
On slowly allowing fans back into wrestling events:
"I think things will continue the way that they are and so far so good. It seems like as long as people are safe at the shows then they will continue and more importantly that the wrestlers and staff are safe. I think everybody's doing a really good job and the fans are respecting to try and not shout even though they wanted to with the stuff that's happened in storylines over the last couple of weeks."
On the current relationship of ROH and NJPW, and The Good Brothers as well as a possible future collaboration with All Elite Wrestling:
"ROH and New Japan are still working together. I think it's been hard as obviously with COVID you can't see New Japan stars in ROH or ROH in New Japan. But it's definitely still going on. Obviously, we saw Tom Lawlor who's an MLW guy on Lion's Break Collision and we're talking about Karl and Doc possibly being a part of New Japan and they have Impact contracts."
"Then there's been AEW guys who have shown up in New Japan too. The world is kinda changing and opening up. I'm not saying everybody is gonna be the best of friends and have maybe even the relationship that ROH and New Japan has had. But I think, especially with the COVID situation, that opportunities are definitely opening up. You kinda have to change your mindset a little bit because we're all trying to get past this situation and not being able to have live events hurts us all. So, instead of fighting each other it's easier to work together in a way to get through this. And I think that will show after COVID in that hopefully that will continue."
On how there is still some work to be done for the AEW and NJPW relationship:
"That's a tough one. I think there's been a lot of progress and it's taken some time to happen. I feel like one day there will be some kind of a relationship there. I don't know when that will happen and obviously there's some feelings on both side. I don't blame anybody and I'm definitely a person who's in the middle.

I understand both sides and how they feel about it. But never say never and especially coming out of this and where AEW is gonna be and where New Japan is gonna be. They are two very strong companies with a lot of amazing talent that I think one day people wanna see how those two will interact. So, we'll just have to wait and see. I feel like that's the big question on everybody's mind – if it will happen and when will it happen? We'll see; I don't know [laughs]. There is some deep feelings on both sides so we'll see."
You can check out Rocky Romero's interview in the embedded audio player below:
Be sure to join our
WWE / AEW Discord server
and connect with other pro wrestling fans.
---