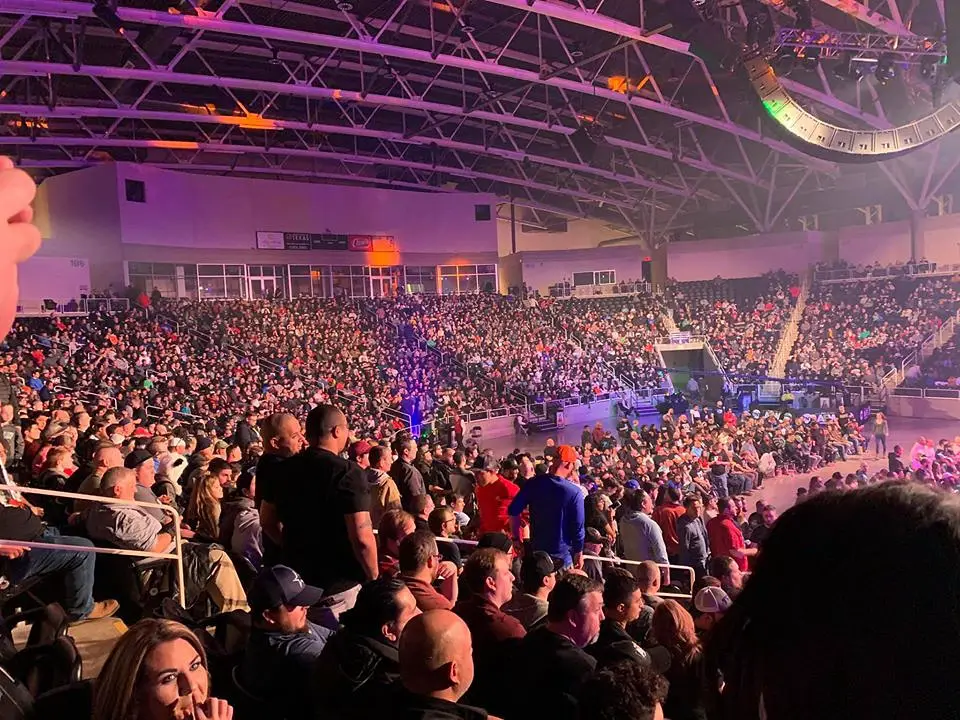 As the Coronavirus begins to take its tole on the US at an alarming rate there are many wrestling fans wondering just how long the pre-recording can continue for. With the cancellation of other major sporting events and postponement of filming on a number of hugely anticipated films, could WWE and other wrestling organisations be the next to be affected by covid-19. In this article, we will be looking into how it has already affected the industry and further disruption that it could bring.
Rating Begin To Take A Hit
As with a number of other sports in recent months, the world of wrestling has seen cancellations of a majority of there, live events. However, with a vast amount of it pre-recorded and televised to the nation, there is much less disruption when it comes to producing the content. As matches continue to take place on closed sets, many are still able to enjoy the wrestling content that they love.
Despite a number of leagues still continuing to broadcast wrestling, the smaller wrestling leagues such as AEW Dynamite and WWE NXT have experienced huge drops in viewing figures. This is set to be a huge loss in revenue and may even see the postponement of matches for the foreseeable future. According to some reports, AEW saw a 16.4% drop in viewership numbers as a direct result of Covid-19 and the ongoing uncertainty. NXT saw the second lowest drop in viewership figures as a result seeing an 11.8% decrease in viewership numbers. This is significant at this time as it suggests that matchups without the audience are not capturing the attention of those watching on the TV.
WWE Continues To Rumble On
Despite viewership figures declining across the board, WWE is continuing to rumble on. With many shows said to be recorded over the coming days in a top-secret location, the major corporation is showing no signs of slowing down when it comes to the ongoing disruption. Though the wellbeing of all contenders is constantly under review, the matches are set to be recorded behind close doors. This is despite viewership dropping dramatically in the last few days. However, as the situation in the US continues to worsen, there are many wondering just how long this will last as lockdown continues to affect the filming of all major TV shows and films.
Wrestlemania 36 Goes Ahead Behind Closed Doors
blockquote class="twitter-tweet">
An incredible CLASH of TITANS took place as @DMcIntyreWWE challenged @BrockLesnar for the #WWEChampionship at #WrestleMania!https://t.co/150hTLadNT
— WWE WrestleMania (@WrestleMania)
April 6, 2020
The continuation of filming in the WWE comes as no surprise to many as the legendary Wrestlemania event still went ahead this past weekend. Though there was no live audience at this event, there was still a huge amount of buzz surrounding the show. Though the show was slimmed down when compared to past live events, there was still a lot for fans to look forward to.
With John Cena making his way to the ring vs Bray Wyatt and multiple women's championship matchups there was something for everyone. However, by far one of the biggest match-ups of the night was between Brock Lesnar and Drew McIntyre for WWE Championship belt. It was this matchup that drew a huge crowd for people and they certainly were not disappointed.
Despite starting the match on the back-foot McIntyre managed to land a successful few hit on his opponent however with a number of Supplex's and a swift F-5 from the champion, it looked likely that the champion Brock Lesnar would win the match. With many bookings having him down as the favourite to win with betting odds of 2/1 on a number of the top betting sites, there were many that we routing for him to bring it home. However, with a swift kick out from McIntyre the match continued. This saw McIntyre claw his way to victory against the man mountain that is Brock Lesnar to become the First British WWE Champion in the history of the network. A huge achievement for him at this point in his career showing a promising future for the WWE despite this ongoing uncertainty and viewership figures falling rapidly.
The Future Of The Sport
As with a number of other sports that have been affected by Covid-19 the future is uncertain. Though they are able to continue filming at this time, there may come a time when they are not able to film anymore. This could mean that all major matchups be postponed until 2021. Though this is a worst-case scenario at this time, it is something that officials and promoters may have to consider should the number of cases in the United States continue to rise at an alarming rate. However, as this is being monitored at this time, we can enjoy the match-ups that have already been pre-recorded.
Whether you are a fan of wrestling or you have just started to fall in love with the sport, there are a number of match-ups for you to look forward to in the near future. Will you be tuning in?
Be sure to join our
WWE / AEW Discord server
and connect with other pro wrestling fans.
---