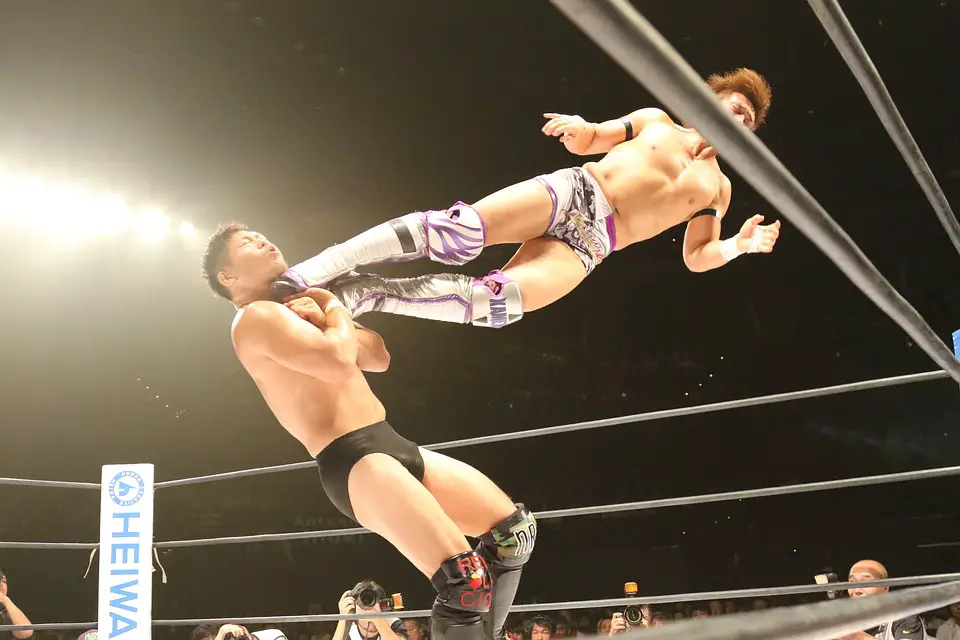 Live wrestling entertainment is back in a big way this year. From the summertime until the end of the year, we have some electrifying events to prepare for. Aside from the stream of televised specials on the way, we also have massive events like WWE SummerSlam, WWE Extreme Rules, and AEW All Out to look forward to. Let's see what the wrestling world has planned for the rest of 2021.
WWE SummerSlam:  August 21st, 2021
Ever since it first premiered in the late 1980s, SummerSlam has been one of the biggest WWE events of the year.  Fans constantly wonder and debate who will be crowned the WWE Universal Champion. This debate is so strong amongst wrestling enthusiasts that sportsbooks even offer odds on these events. Of course, not all sportsbooks have pro wrestling listed, but you can refer to OLBG's guide to which bookies to use. If you are looking for the best way to end the summer with a bang, you absolutely cannot miss SummerSlam 2021.
This year, SummerSlam will be taking place in Las Vegas for the first time in the history of the event. We've been hearing a lot of rumors circulating around the details for this year's line-up and there is definitely reason to be excited. Here are some of the big matches that may be scheduled for SummerSlam this August:
Main event: Roman Reigns vs. John Cena for the Universal Championship
Co-Main event: Bobby Lashley vs. Brock Lesnar/Goldberg for the WWE Championship
Edge vs. Seth Rollins
As you can see, the lineup is filled with some of the biggest stars in the sport. Fans will be ecstatic if John Cena makes an appearance as we have not seen him in the ring since WrestleMania 36 in 2020, when he lost to Bray Wyatt in the Firefly Fun House match. Cena only makes appearances at the most important events now as his priorities revolve around his acting career.
Also scheduled for SummerSlam is Brock Lesnar. Like Cena, Lesnar has not been seen in the ring since WrestleMania 36 when he relinquished his title to Drew McIntyre. However, Lesnar always draws a crowd and high ratings so his performance will likely be one of the highlights of the night.
AEW All Out 2021: September 5, 2021
All Elite Wrestling has quickly built up both a large fanbase and stable of wrestlers in just two short years. The events this company has been putting together have made waves throughout the pro wrestling fandom and kept everyone talking. Coming up in September, their next major event is AEW All Out 2021.
According to wrestling royalty and current AEW star Chris Jericho, this event immediately sold out upon releasing the tickets so you will have to either buy them secondhand or get comfortable at home and watch the match on PPV. Likely, fans are excited for the rumored lineup that has been discussed.
Though nothing is for certain yet, most fans expect a night of high profile matches for this event. Fans and wrestling journalists alike are expecting an AEW World Championship match with Kenny Omega showing off his new look and defending his title. After the live event drought we've experienced, this seems like a no brainer. To complement this, we are also expecting a AEW Women's World championship match. Luckily, we do know at least one exciting event has been announced.
AEW's owner Tony Khan has said that there will be a chaotic 21-Woman Casino Battle Royale. With that many participants, expect every female wrestler you can name including Jade Cargill, Red Velvet, Hikaru Shida, Riho, Serena Deeb, Nyla Rose, Rebel, Leva Bates, Big Swole, Penelope Ford, and Tay Conti. This is sure to be a match that gets the crowd fired up and everyone will be talking about it afterwards.
WWE Extreme Rules 2021: September 26, 2021
WWE's Extreme Rules series doesn't quite have the legacy of events like WrestleMania or Royal Rumble, but it certainly has developed its own style and flavor over the last 13 years. Now, Extreme Rules 2021 is making its return this September in Columbus, Ohio. This series has been getting better every year and you should definitely be in attendance if possible.
It may be too early for any of the matches to be announced just yet, but we can speculate on what we are expecting and would like to see this year. One event that would certainly energize the fans would be a SmackDown Women's Championship event with Bianca Belair facing off against someone like Becky Lynch.
We could very well be seeing a WWE Raw Tag Team Championship match as well. For a main event, we've been hearing rumors that they want to have a WWE Championship match with Bobby Lashley facing off against a big name. While nothing has been announced yet, we know the WWE will have some memorable matches planned.