0 Abadon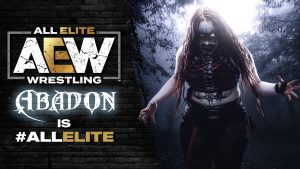 Name

Abadon

Real name

Monica Beadnell

Leagues

AEW

Birthday

August 11, 2023

Age

0
AEW Abadon
Abadon, the enigmatic and haunting force in the world of pro wrestling, strikes fear into the hearts of her opponents. With her unique look and twisted persona, she captivates audiences with her raw intensity and unpredictable nature. Abadon's in-ring style is aggressive and relentless, using her incredible athleticism to dominate her adversaries. Known for her menacing black and white face paint and blood-curdling screams, Abadon mesmerizes the crowd with her eerie presence. Beware those who dare to step into the ring with Abadon, for she is a force to be reckoned with and leaves nothing but destruction in her wake.
Pro Wrestling News – Abadon
---
Google News – Abadon
Be sure to join our
WWE / AEW Discord server
and connect with other pro wrestling fans.
---

AEW Women

#sp-player-gallery-4352 { margin: auto; } #sp-player-gallery-4352 .gallery-item { float: left; margin-top: 10px; text-align: center; width: 33%; } #sp-player-gallery-4352 img { border: 2px solid #cfcfcf; } #sp-player-gallery-4352 .gallery-caption { margin-left: 0; } /* see gallery_shortcode() in wp-includes/media.php */