0 Ethan Page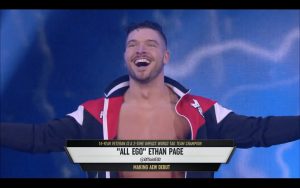 AEW Ethan Page
Ethan Page, known as "All Ego," is a Canadian professional wrestler who has been making waves in the wrestling industry. Standing at 6'2″ and weighing 240 pounds, Page possesses a combination of impressive athleticism and immense strength. His charismatic persona and knack for entertaining the crowd have earned him a loyal fanbase. With a career spanning over a decade, Page has competed in various promotions, showcasing his versatility and adaptability in the ring. Whether it's executing breathtaking high-flying moves or unleashing devastating power slams, Ethan Page always leaves a lasting impression.
Pro Wrestling News – Ethan Page
---
Google News – Ethan Page
Be sure to join our
WWE / AEW Discord server
and connect with other pro wrestling fans.
---
Name

Ethan Page

Real name

Julian Micevski

Leagues

AEW

Birthday

August 11, 2023

Age

0

AEW Women

#sp-player-gallery-4352 { margin: auto; } #sp-player-gallery-4352 .gallery-item { float: left; margin-top: 10px; text-align: center; width: 33%; } #sp-player-gallery-4352 img { border: 2px solid #cfcfcf; } #sp-player-gallery-4352 .gallery-caption { margin-left: 0; } /* see gallery_shortcode() in wp-includes/media.php */