Hikaru Shida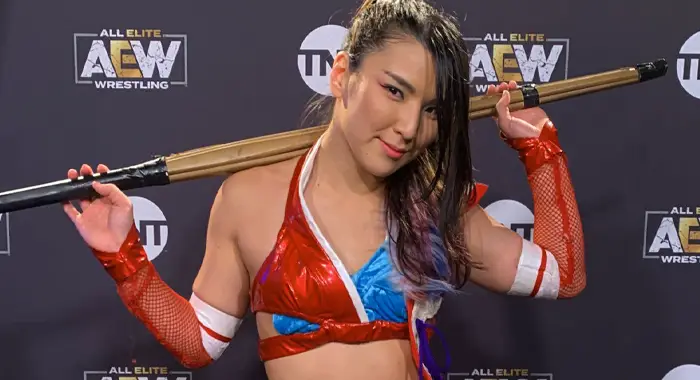 Name

Hikaru Shida

Real name

Hikaru Shida

Weight

126 lb

Height

5 ft 4 1⁄2 in

Leagues

AEW

Birthday

June 11, 1988

Age

34
Hikaru Shida (real name: Hikaru Shida) began her pro wrestling career in 2008 when she joined the Ice Ribbon promotion. She was with Ice Ribbon for six years, where she became a one-time ICE×60 Champion and a four-time International Ribbon Tag Team Champion. She also worked for companies such as Pro Wrestling Wave, Oz Academy, and Sendai Girls' Pro Wrestling, where she became a one-time Wave Single Champion, a two-time Oz Academy Tag Team Champions and a one-time Sendai Girls World Tag Team Champion. No nude photos of her.
Hikaru Shida Photo Gallery
Pro Wrestling News Hub About – Hikaru Shida
---
Google News About – Hikaru Shida
Be sure to join our
WWE / AEW Discord server
and connect with other pro wrestling fans.
---
AEW
| Season | Team | Total Wins | Total Matches | Dynamite - Win | Dynamite - Match | Dark - Win | Dark - Match | Elevation Wins | Elevation Matches | PPV - Win | PPV - Match |
| --- | --- | --- | --- | --- | --- | --- | --- | --- | --- | --- | --- |
| 2020 | AEW Womens Roster | 7 | 9 | 5 | 7 | 2 | 2 | 0 | 0 | 0 | 0 |
| 2021 | AEW Womens Roster | 1 | 1 | 0 | 0 | 0 | 0 | 1 | 1 | 0 | 0 |

AEW Women

#sp-player-gallery-4352 { margin: auto; } #sp-player-gallery-4352 .gallery-item { float: left; margin-top: 10px; text-align: center; width: 33%; } #sp-player-gallery-4352 img { border: 2px solid #cfcfcf; } #sp-player-gallery-4352 .gallery-caption { margin-left: 0; } /* see gallery_shortcode() in wp-includes/media.php */