0 Penelope Ford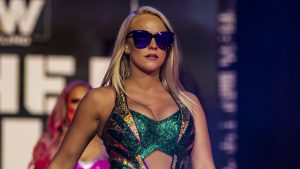 AEW Penelope Ford
Penelope Ford is a dynamic and electrifying pro wrestler known for her agility and high-flying moves inside the ring. Standing at 5'4″, she may be petite but her strength and speed are unmatched. Ford's athleticism and flexibility allow her to execute impressive aerial maneuvers, leaving audiences in awe. With a background in gymnastics, she seamlessly combines grace and power in her performances, making her a formidable force to reckon with. Armed with her signature "Fearless Dive" and "Springboard Bronco Buster," Penelope Ford is a rising star in the world of professional wrestling, capturing the hearts of fans and cementing her place as a true force in the industry.
Pro Wrestling News – Penelope Ford
---
Google News – Penelope Ford
Be sure to join our
WWE / AEW Discord server
and connect with other pro wrestling fans.
---
Name

Penelope Ford

Real name

Olivia Hasler

Leagues

AEW

Birthday

August 11, 2023

Age

0

AEW Women

#sp-player-gallery-4352 { margin: auto; } #sp-player-gallery-4352 .gallery-item { float: left; margin-top: 10px; text-align: center; width: 33%; } #sp-player-gallery-4352 img { border: 2px solid #cfcfcf; } #sp-player-gallery-4352 .gallery-caption { margin-left: 0; } /* see gallery_shortcode() in wp-includes/media.php */