0 Skye Blue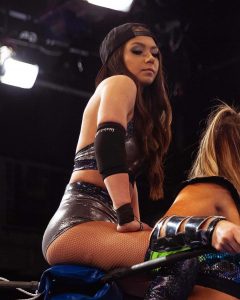 AEW Skye Blue
Skye Blue is a skilled and charismatic pro wrestler hailing from Chicago. With her signature blue hair and vibrant personality, she captures the attention of fans wherever she goes. Known for her high-flying and innovative moves, Skye delivers awe-inspiring performances in the ring. Despite her petite stature, she possesses an undeniable strength and resilience that allows her to take on opponents of any size. Skye's technical prowess combined with her ability to connect with the audience makes her an exciting and unforgettable competitor in the world of pro wrestling.
Pro Wrestling News – Skye Blue
---
Google News – Skye Blue
Be sure to join our
WWE / AEW Discord server
and connect with other pro wrestling fans.
---
Name

Skye Blue

Real name

Skye Dolecki

Leagues

AEW

Birthday

August 11, 2023

Age

0

AEW Women

#sp-player-gallery-4352 { margin: auto; } #sp-player-gallery-4352 .gallery-item { float: left; margin-top: 10px; text-align: center; width: 33%; } #sp-player-gallery-4352 img { border: 2px solid #cfcfcf; } #sp-player-gallery-4352 .gallery-caption { margin-left: 0; } /* see gallery_shortcode() in wp-includes/media.php */