0 Sting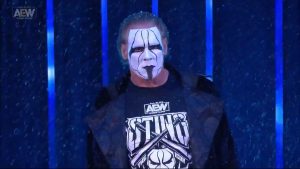 AEW Sting
Sting is a legendary professional wrestler, known for his distinctive face paint and enigmatic persona. Standing at 6 feet 2 inches tall, this wrestling icon possesses a chiseled physique and remarkable agility in the ring. With a career spanning over three decades, Sting has captivated audiences with his high-flying style and charismatic presence. He is a multiple-time world heavyweight champion, having held titles in major promotions such as WCW and TNA. Sting's enduring popularity and unwavering dedication to his craft have secured him a spot as one of the greatest wrestlers of all time.
Pro Wrestling News – Sting
---
Google News – Sting
Be sure to join our
WWE / AEW Discord server
and connect with other pro wrestling fans.
---
Name

Sting

Real name

Steve Borden

Leagues

AEW

Birthday

August 11, 2023

Age

0

AEW Women

#sp-player-gallery-4352 { margin: auto; } #sp-player-gallery-4352 .gallery-item { float: left; margin-top: 10px; text-align: center; width: 33%; } #sp-player-gallery-4352 img { border: 2px solid #cfcfcf; } #sp-player-gallery-4352 .gallery-caption { margin-left: 0; } /* see gallery_shortcode() in wp-includes/media.php */