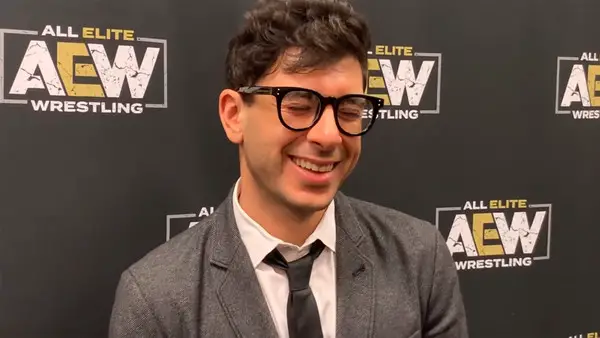 As previously reported, AEW Founder & President Tony Khan was recently interviewed by WWE Hall Of Famer Stone Cold Steve Austin on an episode of his Steve Austin Show Podcast.
Aside from the previously discussed topics including why fans have stopped watching wrestling and what it meant for him to have Dustin Rhodes compete at AEW Double Or Nothing, Khan also talked about being extremely confident in the social media approach of All Elite Wrestling and even saying that it was the main reason for the success of Double Or Nothing.
This is what Tony Khan said: "What's cool is that we didn't have a history of AEW to build up [Double or Nothing]." "We had to use social media: we had to use Road to Double or Nothing, Being the Elite, our various social media channels and press conferences we have done, ticket sale dates, promotional parties that were pretty much press conferences. It's the things we had done and angles we had done to essentially create teasers and spots because we didn't have a history."
Khan then talked about his future plans of using footages of matches to better build stories and feuds, but said that he was in awe at what Cody Rhodes & Dustin Rhodes was able to accomplish in their match despite not having such a facility at this time.
This is what Tony Khan said: "We now have great footage and we are only going to build more and more content, and more and more footage to build up this library of content, but at the time, we didn't have that, so for Cody and Dustin Rhodes to have launched with the most emotion – [it was] the best feeling, and to me, one of the best singles matches that you will have ever seen one-on-one that encounters personal issues. [It] reminds me of Steve Austin versus Bret Hart at WrestleMania 13 in every way. It is a different kind of personal issue, but to me, evoking some kind of emotional response."
Speaking of The Hitman, Khan then talked about what went down between him & AEW Executive Vice President Cody Rhodes that lead to Bret Hart being their choice to present The AEW World Championship.
This is what Tony Khan said: "It just felt right. To be honest, I was on the phone with Cody one night and this was a segment that he was working on: the title segment. You saw what it became with the title segment, where my friend, Jack Whitehall introduces Bret Hart. Bret Hart: the best there is, the best there was, and the best there ever will be came out. Bret is an all-time great legend in professional wrestling, and to me, there was not anybody better for this than him. The way it happened was that Cody and I were on the phone talking about this segment, and he was like, 'Maybe a legend brings it out?' And I was like, 'Yeah, maybe Ric Flair or Ricky Steamboat.' And then I was like, 'What about Bret Hart?" Cody was like, 'Yeah, I love it. I love it. It's great.' I had to reach out to him and talk to the guys to see what they think, and they all loved it."
Khan then talked about the private dinner in which he & AEW Executive Vice President Cody Rhodes met with WWE Hall Of Famer Bret "The Hitman" Hart where they discussed business matters.
This is what Tony Khan said, "I had actually never met Bret Hart face to face until we got to Las Vegas a couple of nights before the show, when we had dinner together." "What a real pleasant and charming guy. I was so honored to have him there; he was so kind to work with us, and it meant so much to have him there to be this great pro wrestling champion who encompasses everyone's love of professional wrestling. He means so much to so many people around the world, globally. Chris Jericho and Kenny Omega went out and beat the hell out of each other and had one of the most incredible pay-per-view main events in a really long time. That, people are still talking about, with [it's] shocking finish."
You can check out Tony Khan's interview on The Steve Austin Show Podcast by clicking here.
Be sure to join our
WWE / AEW Discord server
and connect with other pro wrestling fans.
---