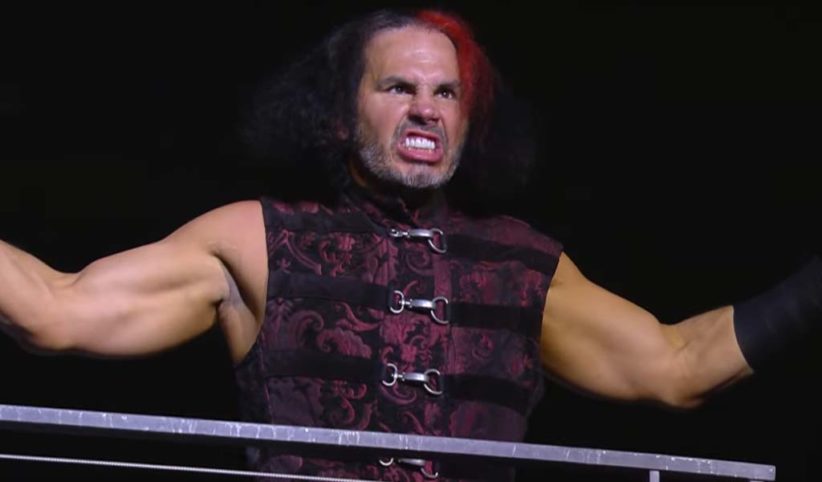 Top AEW Star "Broken" Matt Hardy was recently interviewed by the New York Post on a number of topics, including how he feels so far in the company, working with All Elite Wrestling President and CEO Tony Khan, the Stadium Stampede Match, the Street Fight and being teased as the Dark Order's Exalted One.
Below are the highlights from the interview:
On how he feels so far in the company:
"It's been incredible thus far. I can't say enough good things about AEW and the talent, management, creative process. Creatively I feel reinvigorated. To have the chance to actually have your voice be heard and kind of paint your own masterpiece is so refreshing in so many ways. Having the opportunity to do that … the main person, which is Tony Khan, collaborating with him, giving him ideas and kind of bouncing stuff off one another and him having faith in the performance visions is just such a welcome change."
On working with All Elite Wrestling President and CEO Tony Khan:
"He is an extremely passionate supporter of the wrestling genre. He was a fan back in the day and now him being the boss, giving directions, he has a vision of what he wants to do. But he also includes the performers' vision in that vision and they almost intersect and they make one vision and move forward. I always feel like more than anybody else in the wrestling business today, he as the head of the organization has his finger on the pulse of the 2020 wrestling fan. He really understands what they want. I think he also understands something that might not be his favorite, but he understands why they are good for the product. Even something like "Broken" Matt Hardy and some of the over the top and the theatrics, the unpredictability and the craziness is good for the casual fan as well and that is what they are continually trying to rope in."
On the Stadium Stampede Match at Double or Nothing:
"This 10-man tag is 10 guys that are super hungry and creative and innovative and also there's a hot issue between myself and The Elite and Chris Jericho and his underlings, The Inner Circle. I predict very confidently this is going to be the most insane, wild, entertaining empty-stadium match there's ever been because you have 10 guys going all at it, nothing's off-limits in the venue. I have a feeling this is going to be a match that's talked about forever."
On his multiple costume changes during the Street Fight on Dynamite:
"Right now currently you are speaking to classic Matt Hardy, which is pretty much the standard Matt Hardy people know which has been an entity for, now this is 28 years for me. And then also sometimes, there's a switch and you interlock with (in the "Broken" Matt Hardy voice) "Broken" Matt Hardy and all of his broken brilliance and that is the way that works. Even sometimes in the course of the match, there can be a change of personalities. Yes! Because sometimes you see "Broken" Matt Hardy and (end of voice) then sometimes you see regular Matt Hardy. It's like Bruce Banner and the Incredible Hulk in a lot of ways. There are two entities within my body and I think as time goes on one of my goals here is to create one of the most layered characters in wrestling history, and I think you are going to see many more entities from Matt Hardy, some from his past, some new. I don't know, maybe it will end up being that maybe Matt has a lot of different personalities floating around in his head. We don't know. But it's going to be an interesting story and I'm very excited to tell it and paint my masterpiece in the next year or so in AEW."
On him being teased as the Dark Order's Exalted One:
"I was never, and you can quote me on this, I was never, ever gonna be the Exalted One. I said, let me tease that. It makes sense and it can fit and I can play stuff off of it with my social media and making people go down a certain road and think a certain way. We just decided like if Brodie Lee was just quiet and I can kind of do this, everyone is gonna be expecting me. We knew if he came out, anyone who was disappointed it wasn't me or (that) I didn't show up, they were still gonna get me 45 minutes later in the show. It would have been amazing if it had been done before a live crowd. I would have been so, so cool, but it is what it is."
Be sure to join our
WWE / AEW Discord server
and connect with other pro wrestling fans.
---