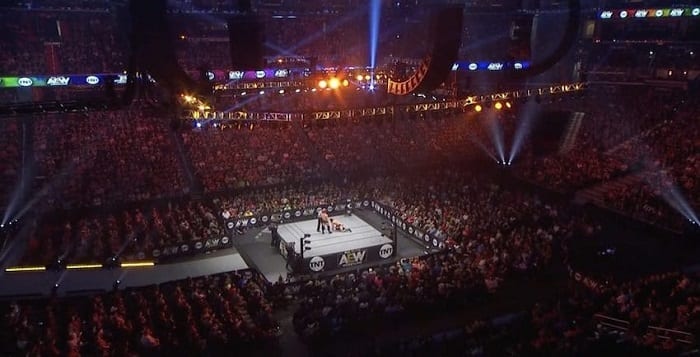 All Elite Wrestling recently announced the huge news that they will be returning to live touring with three upcoming Dynamite tapings on the road this July. On July 7th, AEW will be running Dynamite from the James L. Knight Center in Miami, then on July 14th, the company will be running Dynamite from the H-E-B Center in Cedar Park, Texas, and finally on July 21st, Dynamite will take place from the Curtis Culwell Center in Garland, Texas.
AEW also announced that two live events, which was initially set to take place in St. Louis, Missouri and New Orleans, Louisiana will now be re-scheduled. The June 23rd event at the Chaifetz Arena in St. Louis, Missouri will now take place on Friday, November 5 and is set to be a TV taping to air on TNT, but apparently not as a Dynamite show, while the event set to take place from the UNO Lakefront Arena in New Orleans will now take place on Wednesday, January 12, 2022, and will be a Dynamite taping.
It was reported a couple of weeks ago that the WWE wanted to be the first promotion to return to live events and that if AEW was to start touring ahead of them, which we know now is in July, then WWE may move their return date to touring earlier than they had initially planned as the company wanted to do everything they could to make sure AEW doesn't start touring before them.
According to @Wrestlevotes, AEW returning to touring in July will not impact WWE's return to the road and while this could still change as WWE officials like to always be #1 for these types of things, as of this writing, it looks like WWE's original schedule of returning to the road in August will remain the same. It was also reported in the past that the promotion may begin testing live events some time soon, but no word has been mentioned yet on how that will happen.
You can check out @Wrestlevotes' tweet below:
From a few sources I've asked, it doesn't seem like AEW starting back on the road in July will impact WWE's return to touring plans. While this could change as Vince & Co like to be number 1 for these types of things, as of today, it still looks like August for them.

— WrestleVotes (@WrestleVotes) May 11, 2021
Be sure to join our
WWE / AEW Discord server
and connect with other pro wrestling fans.
---