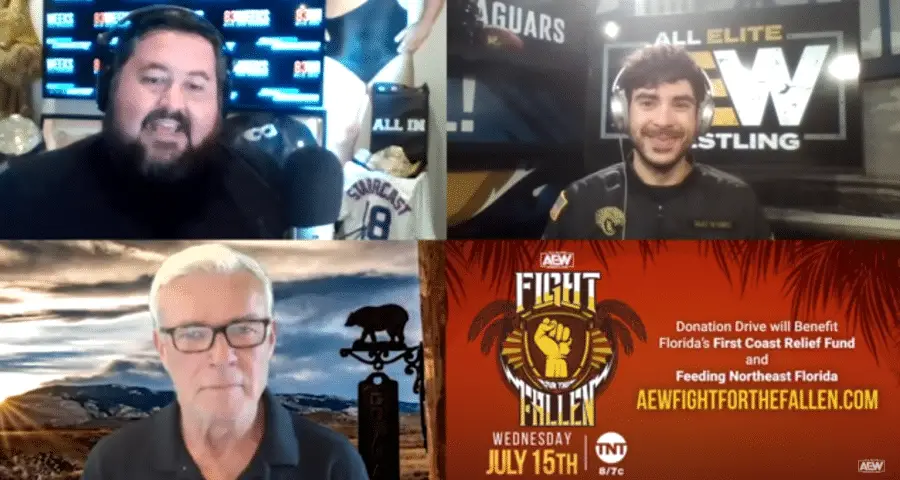 A video wherein tonight's AEW Dynamite Fight For The Fallen Special was previewed recently got released by the company. The video showed AEW President and CEO Tony Khan apologize to professional wrestling legend Eric Bischoff for past comments he made towards WCW.
Tony Khan said that AEW would not be taking any lessons from WCW, a comment which garnered a response from Eric Bischoff as well as some criticisms and reactions from the wrestling world.
In the video, Khan noted that he was referring to the final years of WCW, then explained that without Bischoff and his success in the wrestling industry, AEW wouldn't exist right now in TNT and he wouldn't be there as well. Bischoff would then thank Khan for his words before he, Tony Khan and Conrad Thompson preview tonight's Fight For The Fallen.
This is what Tony Khan told Eric Bischoff:
"I wouldn't be here and there would not be an AEW without you and there would not be wrestling on TNT right now without you." "You gave me the opening to talk to the President of TNT to talk about the previous success you'd had on his network, which he didn't realize because it's been twenty years and he was obviously not at TNT or TBS or WarnerMedia when this was happening. When WCW was such a huge entity. I'm sorry if it came across like I didn't think that way, because I definitely think that. And I'm just such a huge believer in what you've built. So, thank you."
You can check out the video below:
Be sure to join our
WWE / AEW Discord server
and connect with other pro wrestling fans.
---