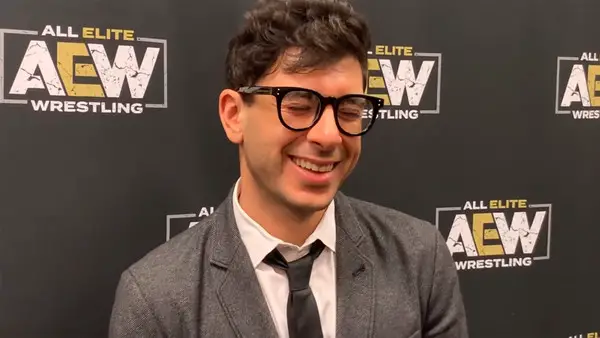 As previously reported, wrestling legend Eric Bischoff made an appearance on AEW Dynamite last night to ask a bunch of questions to MJF and "The Demo God" Chris Jericho during the Inner Circle Town Hall Meeting, where a decision was to be made if MJF will be able to join the Inner Circle.
Eric Bischoff returned as "Eric B. from Cody, Wyoming" during the segment, where "The Demo God" Chris Jericho (along with Santana, Ortiz, and Sammy Guevara) and MJF were in the ring as both sides debated if MJF would be a good fit for the Inner Circle.
The segment came to a close when Jericho issued a challenge to MJF that if MJF defeats him at AEW Full Gear on November 7th, then he can join the Inner Circle, which MJF accepted. Ortiz and Sammy Guevara made it clear though that despite Chris Jericho issuing the challenge to MJF for a chance to join the Inner Circle, they didn't want MJF in the group and even made a match for next week's Dynamite, where we will see Guevara and Ortiz vs. MJF and Wardlow.
After Dynamite went off the air, AEW President and CEO Tony Khan took to Twitter and wrote a comment on Bischoff making his return. Bischoff would then take to Twitter to respond to Tony Khan and even give his thoughts on MJF.
You can check out the tweets below:
Thanks to you and your team Tony! https://t.co/VAwEiCFz21

— Eric Bischoff (@EBischoff) October 29, 2020
---
.@The_MJF is the shit.

— Eric Bischoff (@EBischoff) October 29, 2020

AEW TV RATINGS: Dynamite Finishes 33rd, NXT 67th, January 20th, 2021