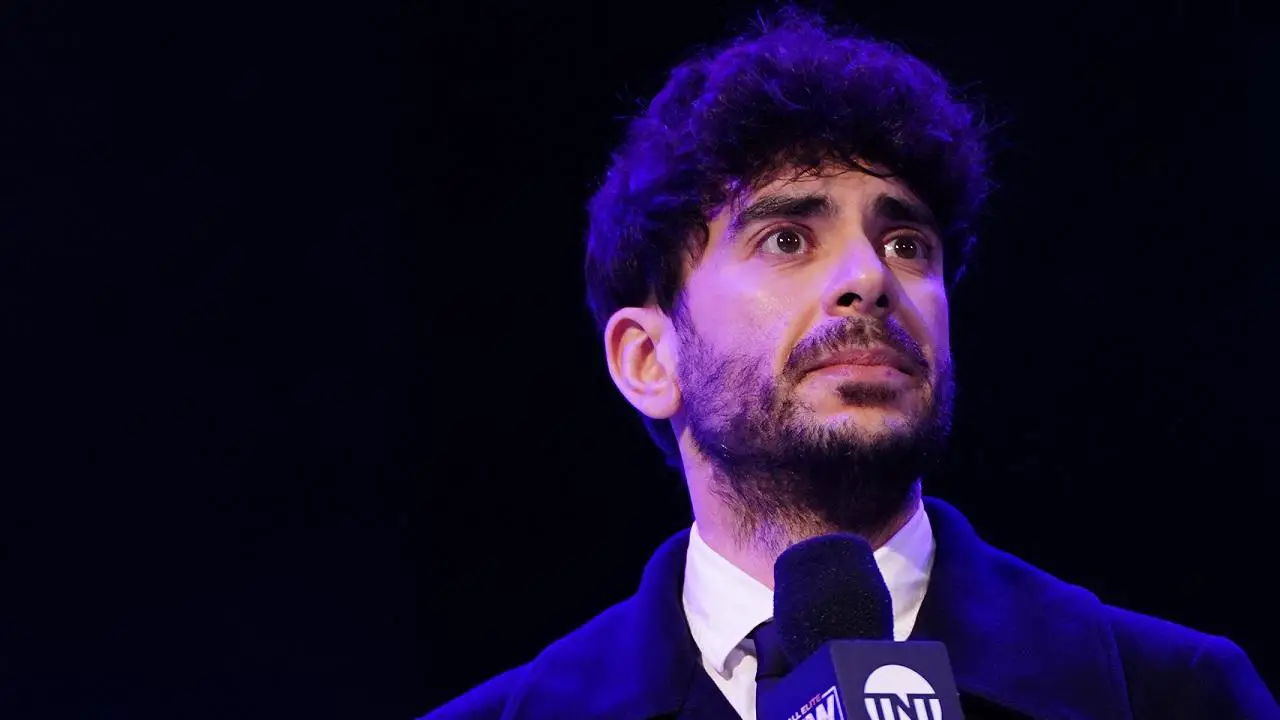 All Elite Wrestling has had four World Champions ever since the promotion launched back on January 1, 2019. The first-ever AEW World Champion was Chris Jericho, who won the title at the 2019 All Out PPV, when he beat "Hangman" Adam Page. Jericho was then defeated by Jon Moxley at the 2020 Revolution PPV, which took place on February 29, 2020. Kenny Omega would then beat Jon Moxley at the Winter Is Coming special episode of Dynamite on December 2, 2020 to become the promotion's third AEW World Champion.
At the 2021 Full Gear PPV, "Hangman" Adam Page would then defeat Kenny Omega to become the fourth and current AEW World Champion. AEW President and CEO Tony Khan recently had a conversation with Rasslin' on the current AEW World Champion Hangman Page and how he believes that Hangman is the greatest World Champion in AEW.
This is what Tony Khan said:
"I believe the top prize in all of pro wrestling, against the greatest champion we've had, Hangman Page." "The guy who knocked off Kenny Omega, he's come in and he's had, in my opinion, the best championship reign of anybody."
Tony Khan also spoke about how the storyline of MJF and CM Punk has been the best ever as well as how the storyline of "Hangman" Adam Page and Kenny Omega has been a huge part of AEW since the third-ever episode.
This is what Tony Khan said:
"That's arguably right there, that is also a long-term story." "And certainly with the fans there, that has been the best. But I think going back even further and longer, before that we had seen Kenny Omega and Hangman Page from the very first episodes of AEW Dynamite. That's where they first teamed in Philadelphia, the third-ever episode of the show."
"And through the pandemic, it was such a huge part of our fabric. They were the tag team champions through the pandemic and then split up. The first eliminator tournament was Kenny vs. Hangman for the first time since they'd been champions, where they met in the final at Full Gear 2020, a great show in front of a socially distanced crowd. So, it's a long story."
Tony Khan then spoke about the storyline of Dr. Britt Baker, D.M.D. and Thunder Rosa and how it's one of the three Mt. Rushmore of storylines AEW has done since their inception, along with the MJF and CM Punk storyline and the storyline of "Hangman" Adam Page and Kenny Omega.
This is what Tony Khan said:
"Certainly, in recent AEW history, I think definitely right there CM Punk vs. MJF Dog Collar match, along with Kenny Omega vs. Hangman Page. Also, Dr. Britt Baker vs. Thunder Rosa, which is a story that went over a year." "I think those would probably be, certainly on the Mt. Rushmore, the three up front."
"Certainly, two that involved the World Title, with Dr. Britt Baker and Thunder Rosa, which culminated, and didn't first involve the title when they started wrestling at Beach Break 2021, and St. Patrick's Day Slam. A year later at St. Patrick's Day Slam 2022, in Texas, it culminated for the biggest win of Thunder Rosa's career, in an even bigger main event than the first St. Patrick's Day Slam. So, those would certainly be three stories first and foremost among the greatest."
You can check out Tony Khan's comments in the video below:
Be sure to join our
WWE / AEW Discord server
and connect with other pro wrestling fans.
---