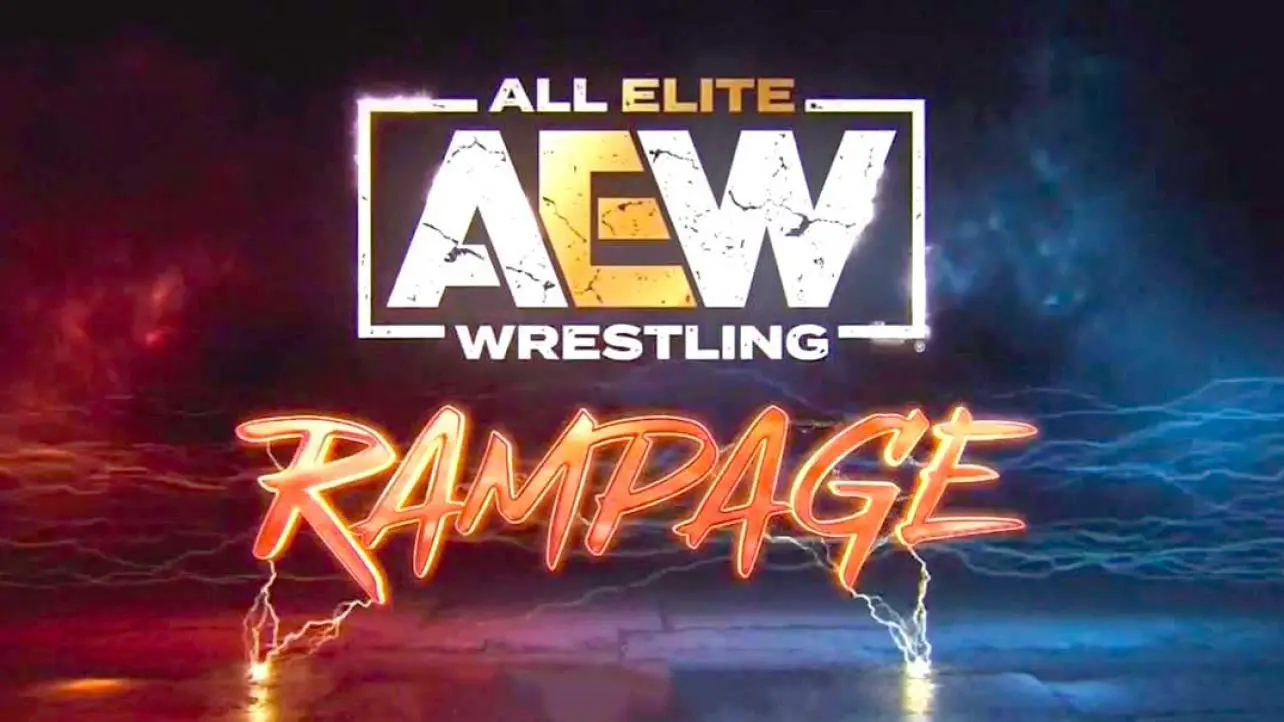 Welcome to Pro Wrestling News Hubs Live coverage of Rampage for October 15th. This week's AEW Rampage episode is live from the James L. Knight Center in Miami, Florida.
AEW Rampage Card
Buy-In Pre-Show
The #AEW #BuyInLIVE is LIVE!!!
– #theInfamous @theBobbyFish vs @theleemoriarty
– @SantanaGarrett_ vs @TayConti_
– American Dragon @bryandanielson vs The Legendary @suzuki_D_minoru #AEWRampage starts at 10/9c on @tntdrama https://t.co/rCuUn5BIaG

— All Elite Wrestling (@AEW) October 16, 2021
This week's episode of Rampage opens up with "The Human Suplex Machine" Taz, Excalibur and "Absolute" Ricky Starks welcoming the AEW fans to the Buy-In Pre-Show. Commentary then sends to ringside for the first match of the evening.
SINGLES MATCH
Tay Conti vs. Santana Garrett
.@TayConti_ continues her winning ways against @SantanaGarrett_ – Watch a Special #AEW #BuyInLIVE NOW on YouTube FREE: https://t.co/0RnoYJf5LL pic.twitter.com/053CPjmJld

— All Elite Wrestling (@AEW) October 16, 2021
Winner: Tay Conti
SINGLES MATCH
Bobby Fish vs. Lee Moriarty
.@theBobbyFish scores his first victory in #AEW ahead of his match TOMORROW against @bryandanielson on a special Saturday Night #AEWDynamite at 8/7c LIVE on TNT – Watch a Special #AEW #BuyInLIVE NOW on YouTube FREE: https://t.co/8ztcFqpsoN pic.twitter.com/RH2tPmk3wS

— All Elite Wrestling (@AEW) October 16, 2021
Winner: Bobby Fish
SINGLES MATCH (30-Minute Time Limit)
Bryan Danielson vs. Minoru Suzuki
WHAT A WAR! @bryandanielson beats @suzuki_D_minoru in one for the ages! on the #AEW #BuyInLIVE pic.twitter.com/Fiig3oMJn0

— All Elite Wrestling (@AEW) October 16, 2021
Winner: Bryan Danielson
Main Show
We're just getting started! Get to @tntdrama for #AEWRampage LIVE!
-Commercial Free: @CMPunk v @MattSydal
–@IAmJericho/@sammyguevara/@RealJakeHager v @ScorpioSky/@OfficialEGO/@junior_cigano w/ Jorge Masvidal (@GamebredFighter) & #DanLambert
–@realrubysoho v #TheBunny pic.twitter.com/BOwyGiRnaS

— All Elite Wrestling (@AEW) October 16, 2021
SINGLES MATCH
CM Punk vs. Matt Sydal
.@CMPunk survives a tough fight from @MattSydal – Watch #AEWRampage LIVE on @tntdrama pic.twitter.com/HK58cNg683

— All Elite Wrestling (@AEW) October 16, 2021
Winner: CM Punk
Backstage Segment With Dark Order
#DarkOrder makes a challenge to the #SuperKliq – Tune in NOW for #AEWRampage LIVE on @tntdrama pic.twitter.com/57kZ5zk6a2

— All Elite Wrestling (@AEW) October 16, 2021
SINGLES MATCH
Ruby Soho vs. The Bunny
A well-timed Flatliner by @realrubysoho on the outside – Tune in NOW for #AEWRampage LIVE on @tntdrama pic.twitter.com/Wud1pJW0d1

— All Elite Wrestling (@AEW) October 16, 2021
Winner: Ruby Soho
Post-Match Segment With Ruby Soho And Penelope Ford
.@realrubysoho is blindsided by @thePenelopeFord after beating #TheBunny – Tune in NOW for #AEWRampage LIVE on @tntdrama pic.twitter.com/PuVv59gSj0

— All Elite Wrestling (@AEW) October 16, 2021
Backstage Interview Segment With Mark Henry, Inner Circle, Men Of The Year, Dan Lambert And Junior Dos Santos
"There's no one crazier in #AEW than Chris Jericho & The Inner Circle!" We're moments away from @IAmJericho, @RealJakeHager & @sammyguevara vs @ScorpioSky, @OfficialEGO & former @ufc Champ @junior_cigano LIVE on #AEWRampage on @tntdrama pic.twitter.com/OahUiaBGnO

— All Elite Wrestling (@AEW) October 16, 2021
TRIOS MATCH
Men Of The Year (Ethan Page and Scorpio Sky) and Junior Dos Santos vs. Inner Circle (Chris Jericho, Sammy Guevara and Jake Hager)
A distraction from @paigevanzant and @GamebredFighter just knocked out @IAmJericho with a running knee strike – Tune in NOW for #AEWRampage LIVE on @tntdrama pic.twitter.com/iFn83Lqr17

— All Elite Wrestling (@AEW) October 16, 2021
Winners: Men Of The Year (Ethan Page and Scorpio Sky) and Junior Dos Santos
Post-Match Segment With American Top Team, Men Of The Year, Chris Jericho, Santana, Ortiz, Jake Hager And Sammy Guevara
.@AmericanTopTeam gets the victory and puts a brutal beating on @IAmJericho until @Santana_Proud & @Ortiz_Powerful chase them off. #AEWRampage pic.twitter.com/p5CL4UVEOl

— All Elite Wrestling (@AEW) October 16, 2021

AEW Women

#sp-player-gallery-4352 { margin: auto; } #sp-player-gallery-4352 .gallery-item { float: left; margin-top: 10px; text-align: center; width: 33%; } #sp-player-gallery-4352 img { border: 2px solid #cfcfcf; } #sp-player-gallery-4352 .gallery-caption { margin-left: 0; } /* see gallery_shortcode() in wp-includes/media.php */