0 Leyla Hirsch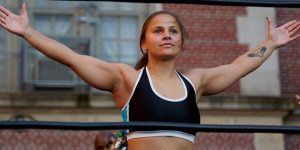 Name

Leyla Hirsch

Real name

Leyla Hirsch

Leagues

AEW

Birthday

August 11, 2023

Age

0
AEW Leyla Hirsch
Leyla Hirsch, also known as "The Russian Dynamite," is a talented pro wrestler with a captivating high-flying style. Standing at 5'1″, Leyla may be small in stature, but she packs a powerful punch inside the ring. With a background in gymnastics and judo, she brings a unique blend of agility and technical prowess to her matches. Leyla's rapid-fire strikes and impressive submission holds can quickly dismantle her opponents. Whether she's facing off against male or female competitors, Leyla Hirsch always leaves a lasting impression with her explosive offense and determination to prove that size doesn't define success in the squared circle.
Pro Wrestling News – Leyla Hirsch
---
Google News – Leyla Hirsch
Be sure to join our
WWE / AEW Discord server
and connect with other pro wrestling fans.
---

AEW Women

#sp-player-gallery-4352 { margin: auto; } #sp-player-gallery-4352 .gallery-item { float: left; margin-top: 10px; text-align: center; width: 33%; } #sp-player-gallery-4352 img { border: 2px solid #cfcfcf; } #sp-player-gallery-4352 .gallery-caption { margin-left: 0; } /* see gallery_shortcode() in wp-includes/media.php */