0 Miro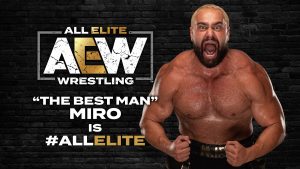 AEW Miro
Miro, also known as "The Bulgarian Brute," is a dominant force in the world of professional wrestling. Standing at 6 feet 2 inches tall and weighing in at 280 pounds, this powerhouse is a force to be reckoned with in the ring. Known for his explosive strength and brutal strikes, Miro has become a feared competitor in the industry. With a background in amateur wrestling and kickboxing, he possesses an impressive array of skills that make him a formidable opponent. Whether he's delivering a devastating suplex or locking in his signature submission hold, Miro always leaves a lasting impact on his opponents and the crowd alike.
Pro Wrestling News – Miro
---
Google News – Miro
Be sure to join our
WWE / AEW Discord server
and connect with other pro wrestling fans.
---
Name

Miro

Real name

Miroslav Barnyashev

Leagues

AEW

Birthday

August 11, 2023

Age

0

AEW Women

#sp-player-gallery-4352 { margin: auto; } #sp-player-gallery-4352 .gallery-item { float: left; margin-top: 10px; text-align: center; width: 33%; } #sp-player-gallery-4352 img { border: 2px solid #cfcfcf; } #sp-player-gallery-4352 .gallery-caption { margin-left: 0; } /* see gallery_shortcode() in wp-includes/media.php */