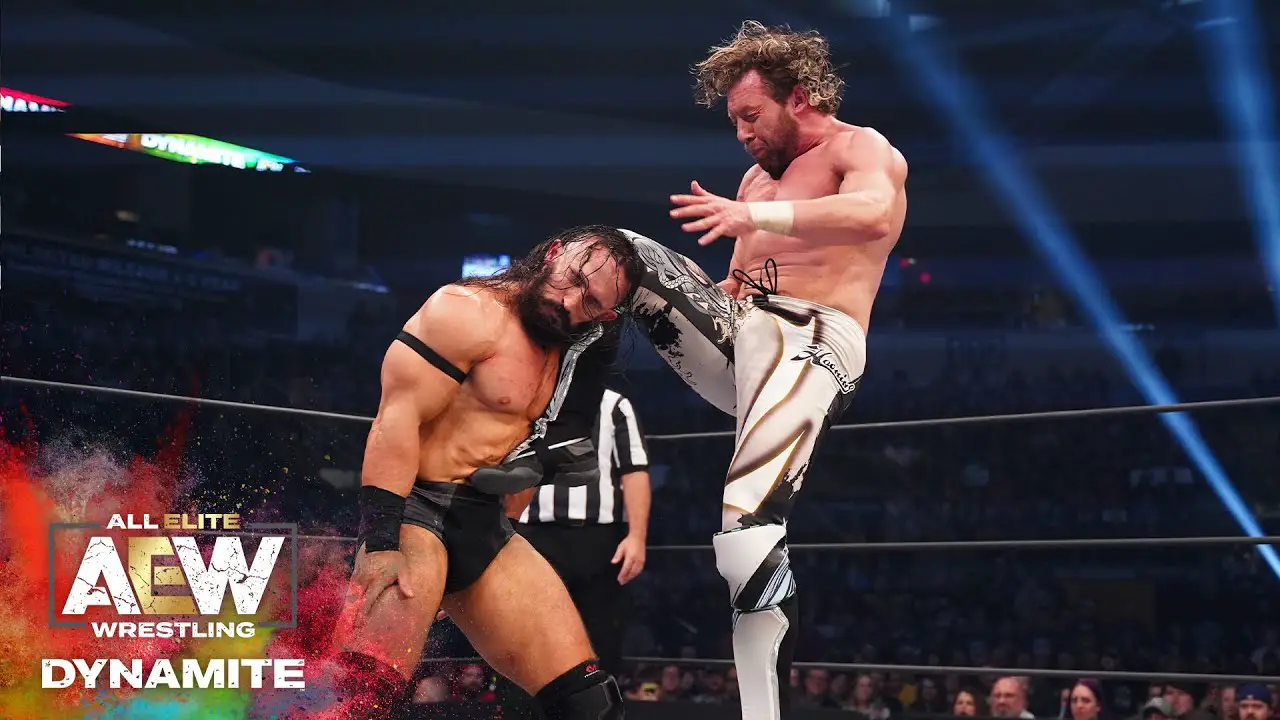 AEW, since its establishment, has produced many memorable events for its fans. From fantastic promos from big names like Chris Jericho and MJF to an abundance of mind-blowing in-ring action.
As the year is coming to end we here, have reflected on the year at hand and want to go over some of the best matches that AEW has put on for the fans in the turbulent year, which is 2020.

5. Kenny Omega and Adam Page vs. the Lucha Bros (Dynamite)

This tag team contest was a huge highlight because it included endless action, high-risk offense, and thrilling sequences. It immediately became a favorite among fans because of all that ensued in the match.

The match ended with Omega dodging a double team from the Lucha Bros, then him and page landing their "V-Trigger Buckshot Lariat" combo known as "The Last Call" on Fenix as their finishing move.
4. Jungle Boy vs. MJF (Double or Nothing)
During this match, a lot of exciting moves were on display from both men. MJF, at one point, attempted to steal it by feigning injury. Ultimately, MJF managed to beat Jungle Boy with a slightly different leg roll up as his finishing move for the win. Both wrestlers delivered on their promises to entertain that night, the noise from the crowd confirming how much they went over.

3. Santana & Ortiz vs. Best Friends in a Parking Lot Brawl (Dynamite)

The brawl began with Proud n Powerful wrecking Trent's mom's car. This was, without a doubt, one of the most intense fights since the inception of AEW Dynamite. There were hoods, car doors, and other weapons used in the fight throughout.

One highlight of the show is when Ortiz and Santana slammed Trent onto a random vehicle's windshield with a double powerbomb. This parking lot fight received critical acclaim and a 5-star rating from Wrestling Observer Newsletter.

2. The Young Bucks vs. Kenny Omega and Adam Page (Revolution)
The storyline layers leading up to this Tag Team title match was just as entertaining as the main event itself. The rising tensions among all parties and Page's drinking-induced paranoia allowed the four men to heap up a wrestling masterpiece.

It was an exciting match, to say the least, that went on for almost thirty minutes. The match received 6 stars from Dave Meltzer, who deemed it the best couples fight he had witnessed in the history of the United States.
1. Kenny Omega vs. PAC

Omega and Pac had had two previous encounters together and they were highly entertaining, but this Iron Match was on another level. The highlight of the match would be when PAC hit a risky Shooting Star Press on Omega sprawled across a table. It displayed phenomenal wrestling between two of the most renowned performers in the industry.

Along with a highly entertaining story. The contest went above the thirty-minute time limit where Omega hit a jaw-dropping V-Trigger and finished off with a "One-Winged Angel" for the win.

Honorable Matches
Riho Vs Nyla Rose
After several matches between the pair, we have decided to choose the one that occurred on the 12th of February this year.
This was a classic David vs Goliath match. Riho tried her acrobatic best in the ring and for the entire match, fans were expecting to see an upset. Unfortunately though for those who wanted to see that outcome Rose hit Riho with a spear and there was no coming back from that.
Jon Moxley Vs Darby Allin
Moxley by this time was AEW champion and his title was on the line. MJF was also lurking in the background. Eventually, his presence couldn't be ignored by anybody as he interfered with the match to the benefit of Darby Allin. Most likely wanting to secure a title change, as he clearly wanted nothing to do with Moxley if he could help it.
Moxley recovered though and you could be forgiven for thinking that the end result was all too predictable, far from it. Allin nearly pulled off a massive upset until he ran out of steam and finally Moxley was able to put him away.
What do you think of this list? Is there a match that we should have mentioned? Leave your thoughts in the comments.
Be sure to join our
WWE / AEW Discord server
and connect with other pro wrestling fans.
---