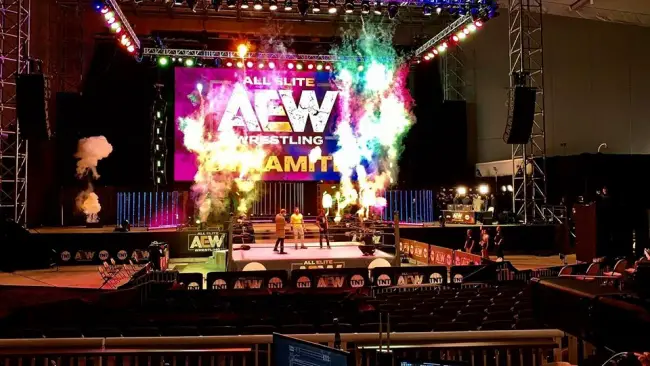 According to a report by Ryan Satin of Pro Wrestling Sheets, there were over 60 'fans' in attendance at this week's Fyter Fest taping. This news broke after a Reddit user posted how they got in. Since then, the post has been deleted.
The question is how did they get in since tickets were not for sale. According to Satin…
"they received a private invite to attend the show with about 60 other people who were non-crew members. They then explained that everyone entering with them was required to wear a mask to even walk through the outside gates.

This fan also claimed they had to sign waivers acknowledging they hadn't been exposed to COVID-19, as well as other precautions related to virus safety. They were not tested for COVID-19 to enter the venue like talent and crew, however. They were only given temperature checks.
Satin goes on to say that the 'fans' were part of the Jacksonville Jaguars.
"According to a source in AEW, the people invited to Fyter Fest were local Daily's Place or Jaguars sponsors who were allowed to bring some family and friends. We're told these people got seated in the upper bowl of Daily's Place and were likely not tested because there's no way anyone up there could spit on or breathe on anyone in the ringside or backstage area. Our sources say anyone who was in the lower bowl or backstage area though was tested for COVID-19."
So it is safe to say AEW beat Vince McMahon and the WWE with being the first to have fans back in attendance, sort of. We will see if this will continue with AEW Fight For The Fallen on July 15th.
Be sure to join our
WWE / AEW Discord server
and connect with other pro wrestling fans.
---