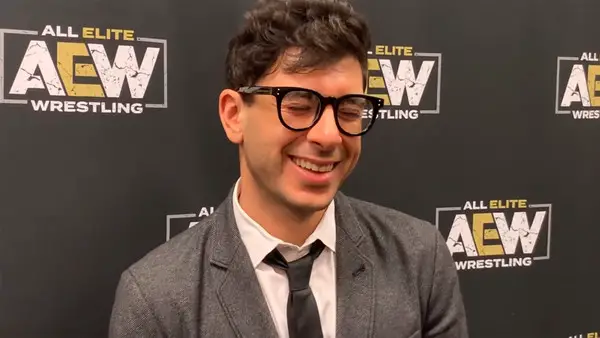 AEW Founder & President Tony Khan was recently interviewed by WWE Hall Of Famer Stone Cold Steve Austin on an episode of his Steve Austin Show Podcast on a number of topics including what it means to him to have Dustin Rhodes compete at AEW Double Or Nothing and why fans have stopped watching wrestling.
When asked about what it meant for him to have Dustin Rhodes compete at AEW Double Or Nothing, AEW Founder & President Tony Khan said that it means everything to him. He also said that he has been a fan of Dustin Rhodes his whole wrestling-fan life.
This is what Tony Khan said: "It means everything to me [to be able to work with Dustin]. I have been a fan of Dustin Rhodes my whole wrestling-fan life." "As soon as I got into wrestling, as far back as I can remember, it was a 10-minute challenge with Ted DiBiase and Dustin Rhodes on Saturday Night's Main Event, where the angle was Ted DiBiase tried to take Dustin Rhodes seat, and then the match they had at Royal Rumble. And then when they jumped to WCW was the first time I started watching WCW – when Dusty and Dustin Rhodes jumped to WCW and started working with you [Steve Austin]. I had just turned 9 years old. Instead of watching the World Series, I was watching Steve Austin versus Dustin Rhodes in a 15-minute Broadway for the WCW TV title at Halloween Havoc 1991."
Khan also said that it meant the world to him when Dustin Rhodes appeared on an episode of Chris Jericho's Podcast and spoke about the match with great sentiment.
Tony Khan also spoke about his intentions in starting his own pro wrestling company and said that he thinks he has the necessary solution to unite the pro wrestling community from all across the globe as well as bring media attention back to the industry.
This is what Tony Khan said: "Things have tipped over where there are so many people who were fans of wrestling then, and there are fans of pro wrestling right now." "Wrestling products that are out there now are great, and there's never been a better time to be a wrestling fan in terms of if you want to see a lot of really good, incredible workers, and some really incredible, high spots, and some entertaining matches with great wrestling within the last few years. But in terms to have a lot of great shows to watch, and production values with hot crowds, and a lot of interest in the wrestling business from a mainstream perspective – I mean, yes, there has been a lot of TV money coming into wrestling and that has been a super positive thing, too."
"A combination of factors [play in to these things], like the rights fees around live sports and the media landscape making it possible to get a budget together to have production values for a wrestling show that nobody has really had, outside of WWE, in many ways ever." "Technology has changed a lot over the years since there was another wrestling company outside the WWF that had the best technology. We can have all the state-of-the-art technology, and run the hot crowds, and have some of the best performers."
Tony Khan then spoke about why he thinks a good number of wrestling fans have stopped watching the product and said that it is due to overly-scripted productions and promos as it removes the value and the essence of the show fans want to watch.
This is what Tony Khan said: "The reason that there is a lapsed fan is because the wrestling that people want to see isn't out there, and it isn't just one thing they are missing it is a lot of things that they are missing." "The promos being overly scripted, and too much of the show being overly scripted promos from a lot of the current television. I think that is an issue, so when you see our stuff, it's not like any writer gave that script to Cody and it's not like Cody went out there with a script either. If you see Cody's process he has a process to work stuff out, everyone does. Everyone has to memorize things when they go out there: whether it's bullet points or a lot of details there's important things people need to hit on, but I don't necessarily think you need a word for word script."
You can check out Tony Khan's interview on The Steve Austin Show Podcast by clicking here.
Be sure to join our
WWE / AEW Discord server
and connect with other pro wrestling fans.
---