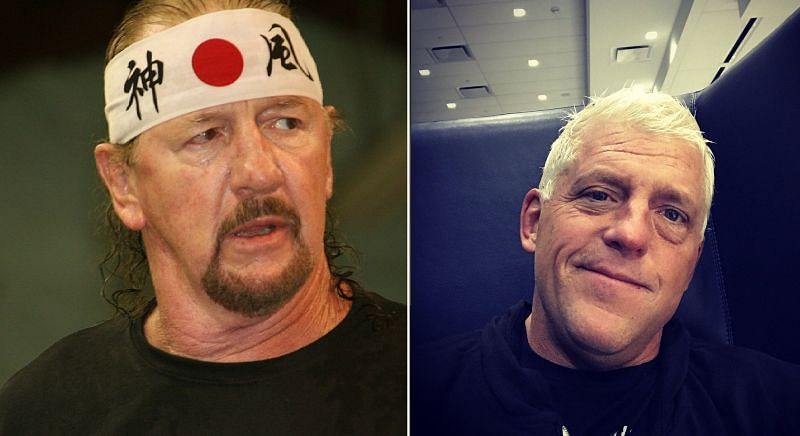 It was previously reported that AEW Star "The Natural" Dustin Rhodes recently took to his Twitter and revealed that he had a conversation with WWE Hall of Famer and wrestling legend, Terry Funk, a few days ago and that Terry Funk is in a lot of pain.
Dustin Rhodes then said that Funk could use some prayers while also saying that he is one of the greatest true legends to ever be in the ring.
Dustin Rhodes took to his Twitter once again, this time to provide an update on Terry Funk as well as give the fans some clarification on what he meant on his previous tweet when he said that Terry could use some prayers. According to Dustin Rhodes, wrestling legend Terry Funk is just in severe pain with his hip, but he is a tough SOB.
This past Thursday, WWE Hall of Famer and pro wrestling legend Terry Funk took to his Twitter account and posted a video, where he asked fans to please stop sending fan mail to his home, which a few fans took as a sign that Funk's health was declining, but the person handling Terry Funk's Twitter account said that Funk would still like to make live appearances once it is safe to do so.
You can check out Dustin Rhodes' tweets below:
Just got off the phone with Terry Funk. He is in a lot of pain and could use some prayers. One of the greatest #TrueLegends to ever be in the ting. Appreciate y'all

— Dustin Rhodes (@dustinrhodes) February 7, 2021
---
Just to clarify guys, Terry Funk is just in severe pain with his hip. He is a tough SOB.

— Dustin Rhodes (@dustinrhodes) February 8, 2021

AEW Women

#sp-player-gallery-4352 { margin: auto; } #sp-player-gallery-4352 .gallery-item { float: left; margin-top: 10px; text-align: center; width: 33%; } #sp-player-gallery-4352 img { border: 2px solid #cfcfcf; } #sp-player-gallery-4352 .gallery-caption { margin-left: 0; } /* see gallery_shortcode() in wp-includes/media.php */