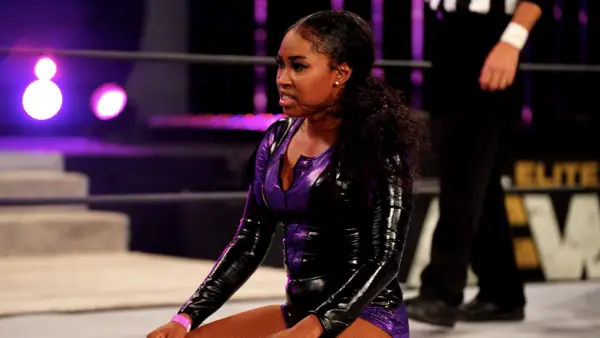 Former WWE Star Ariane Andrew, who recently made her debut for All Elite Wrestling, was a guest on the Wrestling Inc Daily podcast not too long ago to talk about her run as Cameron in WWE, the differences between WWE and AEW and more.
Below are the highlights:
On the toxic hate wrestling fans have been throwing her way and her character:
"You know, initially it used to bother me because no one knows your story like what you've been through in your life." "Because I feel like I wasn't an avid wrestling fan growing up, it's just automatically like, 'you don't deserve to be here,' but again, you don't know someone's story, and I feel like it's when you're given an opportunity, [it's] what you do with it. So initially, it used to hurt my feelings because obviously, I'm a human, and I know I'm a good person."
"Yeah, my character is a lot, but who I am as a person is a very caring person. But now I just don't care because I feel like when you really truly embrace who you are and love the skin you're in, you're never going to please everybody, and when you decide to put your life in the entertainment world, you just have to know that there's going to be people who have something to say and you just have to be OK with that."
On the main differences between the WWE environment and the AEW environment:
I think in WWE, it's more of a competitive environment, where at the end of day, still, there's only a few spots, but I feel like with AEW, it's more of a how do we work together to make sure you put on the best show, and it's not about who's here or who's there." "It's like how does everyone help elevate [each other] because even if you're starting at the very bottom, you still need someone to be like, 'hey, let me build you up because this is how it works."
"For instance, when I used to do track and field, it's you against you. It's like this is a team effort because if we don't work as a team, then how do we put on a show if people are on different pages, and what I really do like is I've always been a huge advocate for equality and stuff like that."
On AEW Star Nyla Rose:
"So to see someone like Nyla Rose and her position to be able to have that spot as a top person, like if you would have said that years ago, that would have been like no. I haven't really seen that development quite yet in the WWE." "Not to say that that's never going to happen, but I feel like AEW has a little bit more of a broader scope."
"Even with the owner doing Black Lives Matter and stuff like that, and yes, it's going to be controversial, but I think it's also evolving with where the times are because there's always going to be different chapters of life and you have to be willing to evolve. And even if you don't agree, just to be able to hear, to understand instead of listening to respond."
You can check out Ariane Andrew's comment in the embedded audio player below:
Be sure to join our
WWE / AEW Discord server
and connect with other pro wrestling fans.
---