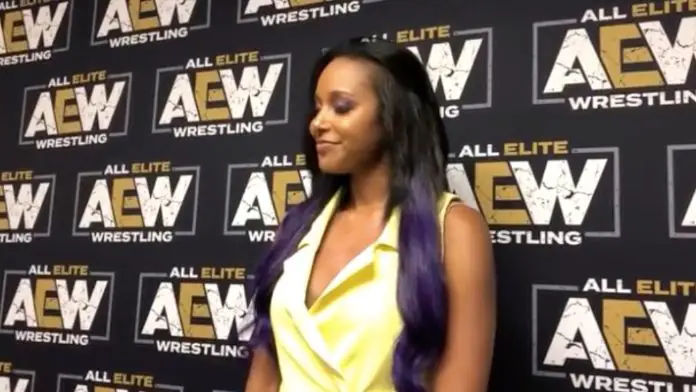 This past Saturday night's AEW Fight For The Fallen PPV Event saw Brandi Rhodes take on Allie in a one-on-one match and come out of the match with a victory. Following the show, AEW Chief Brand Officer Brandi Rhodes took part in a media scrum and talked about the possibility of Former IMPACT Wrestling Star Scarlett Bordeaux signing with the company.
Rhodes first noted that she likes Scarlett and she thinks Scarlett is a great competitor. Rhodes also indicated that a lot of the girls in their women's division are new and it is important that everyone gets their moments so that people will know who they are.
This is what Brandi Rhodes said: "I like Scarlett, I think she's a great competitor." "I think it's very important with our division—because a lot of our girls are newer, a lot of people maybe don't have such name recognition. I mean, even with me, I've been in the business for a long time, but not as a wrestler. So, it's very important that everybody gets their moments and their time so that people can get to know some of these girls."
Rhodes also said that if someone hasn't been in AEW, it doesn't mean that the doors are closed to them. Rhodes then ended the interview by saying that it is just a matter of making sure they build the division correctly and that everyone gets their fair share of presenting themselves.
This is what Brandi Rhodes said: "Any sports industry you want to know the athletes, that's part of why people come and watch the Jacksonville Jaguars because they know the players, they know their history, they know about their families. We want to be able to do that with the girls, so I don't want so many girls that we can't do that. If you don't see a face, yet, it's always just a 'yet,' that doesn't mean that the doors are closed to anyone. It's just a matter of making sure we build this division correctly and that everybody gets a fair shake at presenting themselves."
You can check out Brandi Rhodes' full comments in the video below:
Be sure to join our
WWE / AEW Discord server
and connect with other pro wrestling fans.
---