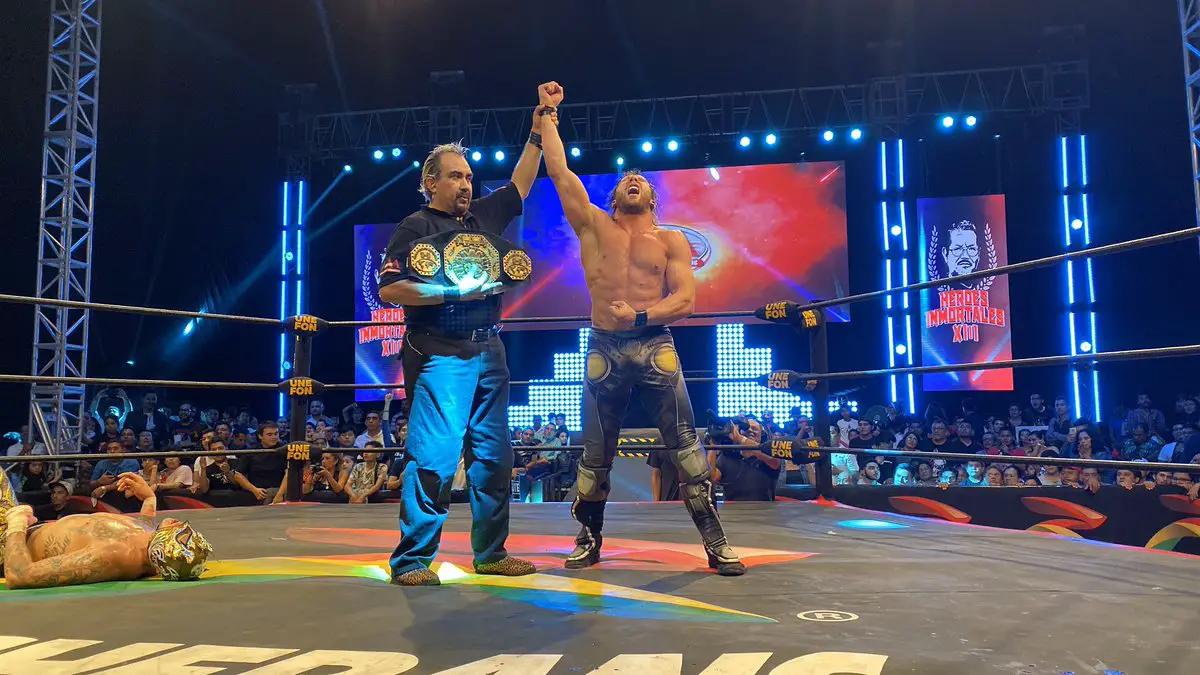 Kenny Omega is considered as one of the best, if not the best wrestler in the world today. He has competed in a number of top pro wrestling companies in the world, where he has won multiple championship titles.
Kenny Omega is a former IWGP Heavyweight Champion, a former IWGP United States Champion, a former IWGP Intercontinental Champion, and a former IWGP Junior Heavyweight Champion. Aside from Omega's success in NJPW, he has also won awards in Pro Wrestling Illustrated, Sports Illustrated, and The Wrestling Observer Newsletter.
At this past August's TripleMania XXVII, Omega Challenged Fenix for his AAA Mega Title, which the two battled for at last Saturday night's AAA Heroes Inmortales XIII Event. The event saw Kenny Omega become the new AAA Mega Champion via pinfall after hitting Fenix with a One-Winged Angel.
This is Kenny Omega's first title since losing the IWGP Heavyweight Title to Hiroshi Tanahashi at January's Wrestle Kingdom 13 Event. There is no word yet on when Kenny Omega will be having his first-ever title defense, but updates and information will be provided once it is made available.
Back in February of this year, All Elite Wrestling and AAA established a partnership where we will see talents from one company switch and perform in the other company from time to time or whenever needed and vice versa.
You can check out Kenny Omega becoming the new AAA Mega Champion in the photos and the videos below:
¡Lucha por el Megacampeonato de Peso Completo AAA!

? @ReyFenixMx ? @KennyOmegamanX ?

#HeroesInmortalesXIII
? En VIVO por @TwitchES https://t.co/ajqXTWrKwS
————————
? LIVEhttps://t.co/ACYaeiKD84 pic.twitter.com/aHyDlWhgz1

— Lucha Libre AAA (@luchalibreaaa) October 20, 2019
---
¡Tenemos NUEVO Megacampeón AAA!

? @KennyOmegamanX de @AEWrestling ?

#HeroesInmortalesXIII
? En VIVO por @TwitchES https://t.co/ajqXTWrKwS
————————
? LIVEhttps://t.co/ACYaeiKD84 pic.twitter.com/E7CqnJo6RL

— Lucha Libre AAA (@luchalibreaaa) October 20, 2019
---
#andNew Mega Campeonato @luchalibreaaa @KennyOmegamanX pic.twitter.com/0ihrrhhRUb

— All Elite Wrestling (@AEWrestling) October 20, 2019
---
Aquí está su nuevo Megacampeón de @luchalibreaaa:

? @kennyOmegamanX de @AEWrestling ?

#HeroesInmortalesXIII
? En VIVO por @TwitchES https://t.co/ajqXTWrKwS
————————
? LIVEhttps://t.co/ACYaeiKD84 pic.twitter.com/lA2PChf11v

— Lucha Libre AAA (@luchalibreaaa) October 20, 2019

AEW Women

#sp-player-gallery-4352 { margin: auto; } #sp-player-gallery-4352 .gallery-item { float: left; margin-top: 10px; text-align: center; width: 33%; } #sp-player-gallery-4352 img { border: 2px solid #cfcfcf; } #sp-player-gallery-4352 .gallery-caption { margin-left: 0; } /* see gallery_shortcode() in wp-includes/media.php */