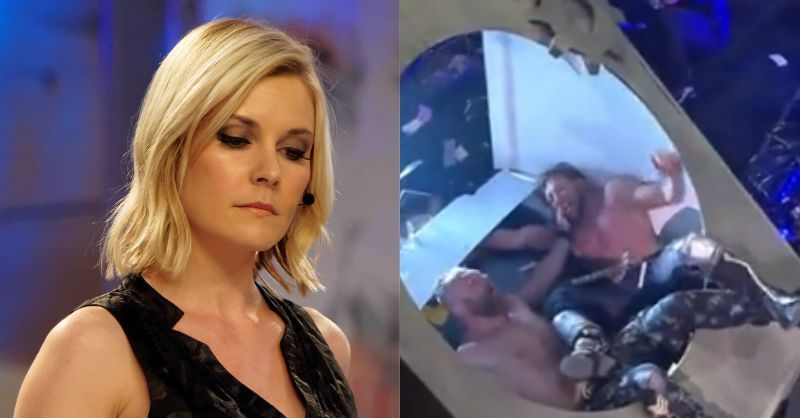 At this past Saturday night's AEW Full Gear PPV Event, Jon Moxley and Kenny Omega was part of one of the most barbaric and vicious matches in professional wrestling's recent memory.
The two were part of an Unsanctioned Lights Out Match that welcomed all types of brutality and even had all sorts of weapons used in the match including a barbed wire bat and broom, mouse traps, shattered glass, an ice pick and a giant barbed wire bed that both Moxley and Omega would go through.
The match even saw the ring apron and padding removed that exposed the wood boards and was used by Moxley to finish off Omega by hitting him with the paradigm shift on those exposed wood boards.
While the match was going on, Jon Moxley's wife, Renee Young, took to Twitter and sent out a bunch of tweets, making it clear that she hated what went on between her husband, Moxley and Kenny Omega.
You can check out Renee Young's tweets below:
My husband is handsome. Also a bad MFer. ⚡️

— Renee Young (@ReneeYoungWWE) November 10, 2019
---
Hi. Yes. Hello. I hate this.

— Renee Young (@ReneeYoungWWE) November 10, 2019
---
Seriously wtf. https://t.co/3SPoVXoEcG

— Renee Young (@ReneeYoungWWE) November 10, 2019
---
Anyways i hear Christmas Movies are a great palette cleanser. (Help!)

— Renee Young (@ReneeYoungWWE) November 10, 2019