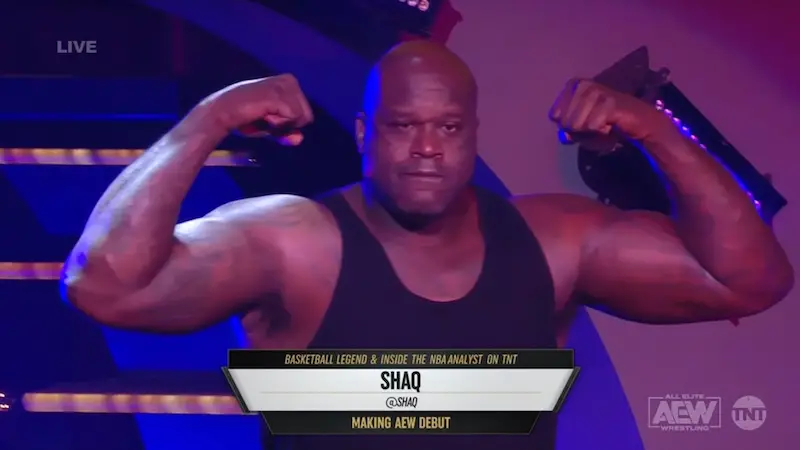 The opening matchup of last night's AEW Dynamite: The Crossroads special saw NBA legend Shaq make his highly-anticipated in-ring debut when he teamed with Jade Cargill to take on "The American Nightmare" Cody Rhodes and Red Velvet in a Tag Team Match, with Shaq and Jade Cargill defeating Cody and Velvet.
Shaq and Cody have been going at it since last August, with the NBA legend saying that he would "love to fight Cody." Brandi Rhodes was initially scheduled to be in the match with her husband, but it was announced that she is pregnant, which is why Red Velvet replaced her.
The huge Tag Team Match saw Cody not only scoop slam Shaq to the mat, but he hit a running crossbody, sending both himself and the NBA legend straight through two tables. Jade Cargill eventually finished off Red Velvet for the pinfall victory.
You can check out highlights of the match in the posts below:
No doubt @Jade_Cargill is ready for this! #AEWDynamite #AEWonTNT pic.twitter.com/uFJ2DNQAth

— TDE Wrestling (@tde_gif) March 4, 2021
---
HERE WE GO! If you're not watching you better tune in right now!
Watch #AEWDynamite NOW on @TNTDrama.@SHAQ @Jade_Cargill pic.twitter.com/wmM5X7Bl3I

— All Elite Wrestling (@AEW) March 4, 2021
---
.@SHAQ's got moves! #AEWDynamite #AEWonTNT pic.twitter.com/rRgLz7hyJ3

— TDE Wrestling (@tde_gif) March 4, 2021
---
.@SHAQ came to play #AEWDynamite pic.twitter.com/gvhFCwuyP2

— All Elite Wrestling on TNT (@AEWonTNT) March 4, 2021
---
.@Jade_Cargill on that next level power!
Watch #AEWDynamite NOW on @TNTDrama pic.twitter.com/FsFj91XVdk

— All Elite Wrestling (@AEW) March 4, 2021
---
.@SHAQ takes out the #NightmareFamily at ringside!
Watch #AEWDynamite NOW on @TNTDrama pic.twitter.com/I2LDPTTDcq

— All Elite Wrestling (@AEW) March 4, 2021
---
NOW THAT'S A POWER BOMB #AEWDynamite pic.twitter.com/BU8bIvBT4Y

— All Elite Wrestling on TNT (@AEWonTNT) March 4, 2021
---
BIG TIME powerbomb from @SHAQ with a scoop slam return by @CodyRhodes! Watch #AEWDynamite NOW on @TNTDrama pic.twitter.com/5xbNGdOZbx

— All Elite Wrestling (@AEW) March 4, 2021
---
.@SHAQ goes through the table! 😱
Watch #AEWDynamite NOW on @TNTDrama pic.twitter.com/RVGmeqCR4h

— All Elite Wrestling (@AEW) March 4, 2021
---
💪 @Jade_Cargill #AEWDynamite #AEWonTNT pic.twitter.com/nUSiykBFwE

— TDE Wrestling (@tde_gif) March 4, 2021