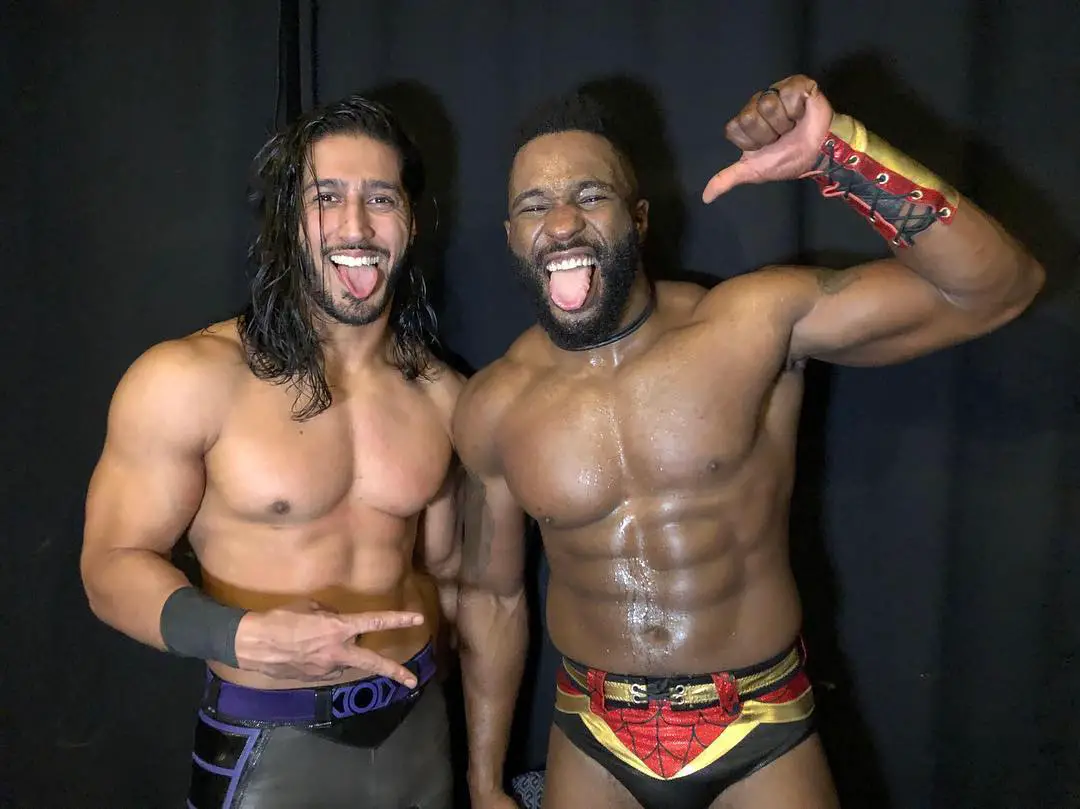 AEW gets some criticism over its reliance on ex-WWE stars, but there's no denying that certain wrestlers have used AEW's platform to bring new layers and creative depth to their characters.
Sure, some haven't been utilized to their full extent. But for every Shawn Spears, there's a Jon Moxley, PAC and Brodie Lee. And perhaps most importantly, these new and improved versions are being used to elevate lesser-known talent to the same levels.
And certainly, there are many underused stars in WWE who may be better suited to AEW. Here are the five biggest names we think we would thrive in All Elite Wrestling.
Aleister Black
One of the staples of NXT during its golden years, Aleister Black has superstar written all over him.
It's no secret that Aleister's main roster run in WWE has been nothing short of embarrassing, with any momentum immediately halted when Michael Cole referred to the occult-practicing martial artist bad ass as "dark and moody."
But over in AEW, Aleister's MMA-inspired chops combined with his aerial style would be a great addition to the roster, with very few wrestlers in AEW sporting a similar approach. He looks the part, he plays the part, and with his wife Zelina Vega recently leaving WWE on bad terms, who knows what Black's future might hold.  
Ember Moon
With her domineering presence and impressive physicality in the ring, Ember Moon might be one of the most misused stars in WWE of the past five years.
Moon came to prominence during the era when Charlotte Flair, Becky Lynch and Alexa Bliss were hitting their peaks, which meant Moon took something of a backseat to these mega-stars. While Moon shone whenever the opportunity arose, the main event caliber women on the roster continually overshadowed her.
But in AEW, Ember Moon could be a game-changer for their admittedly struggling women's division. She's got that ferocious look that lends itself well to either face or heel, and her in-ring style would gel well with the likes of Nyla Rose, Abadon and Sereena Deeb.
Mustafa Ali
The gem of 205 Live, Mustafi Ali put on classics with the likes of Buddy Murphy and Cedric Alexander for barely a fraction of the Raw viewership. Now the leader of the anti-authority group Retribution, Ali rarely puts on classics now and instead cuts kayfabe-blurring promos about his lack of direction in WWE.
AEW undoubtedly has the most impressive cruiserweight division of any promotion, so Ali would naturally fit right in amongst the Bucks, Fenix, TH2, and Sammy Guevara, amongst others.
Ali's also shown that in addition to being one of the most gifted athletes on the planet, he can also hold his own in the promo game.
Cedric Alexander
Another star who made 205 Live a must-watch show throughout 2018, Cedric Alexander initially gained traction after some impressive matches in the 2016 Cruiserweight Classic, where he put on a particularly outstanding bout with Kota Ibushi.
A chant of "please sign Cedric" followed, and it seemed that Alexander had a great future ahead of him. However, after heading to the main roster, Cedric got lost in the shuffle and all his momentum fell by the wayside.
In addition to being an impressive high-flyer, Cedric's brief feud with Drew McIntyre proved that he can put on impressive matches against bigger guys, and one can only imagine how much he might flourish without WWE's shackles. With his wife Big Swole already signed to AEW, Cedric already has a link to them.
As we see from the ratings each week, AEW has a loyal audience that rarely fluctuates from its viewing habits. Therefore, it's going to take some major starpower from a rival promotion in order to shift the viewership needle with any kind of significance.
Randy Orton is a WWE lifer and probably makes more money than any other promotion could ever offer him. However, that's why a surprise move to AEW would cause a seismic shift in the wrestling landscape.
The iconic visual of a discreet RKO out of nowhere has become part of wrestling lore, and would be the perfect way to pull off a surprise debut in front of an unsuspecting crowd. The pop would be magnificent.
As we've seen from his recent feuds with Edge and Drew McIntyre, Randy can still go in the ring when the time calls for it. Sure, it's a pipedream, but weirder things have happened throughout wrestling history.
Be sure to join our
WWE / AEW Discord server
and connect with other pro wrestling fans.
---