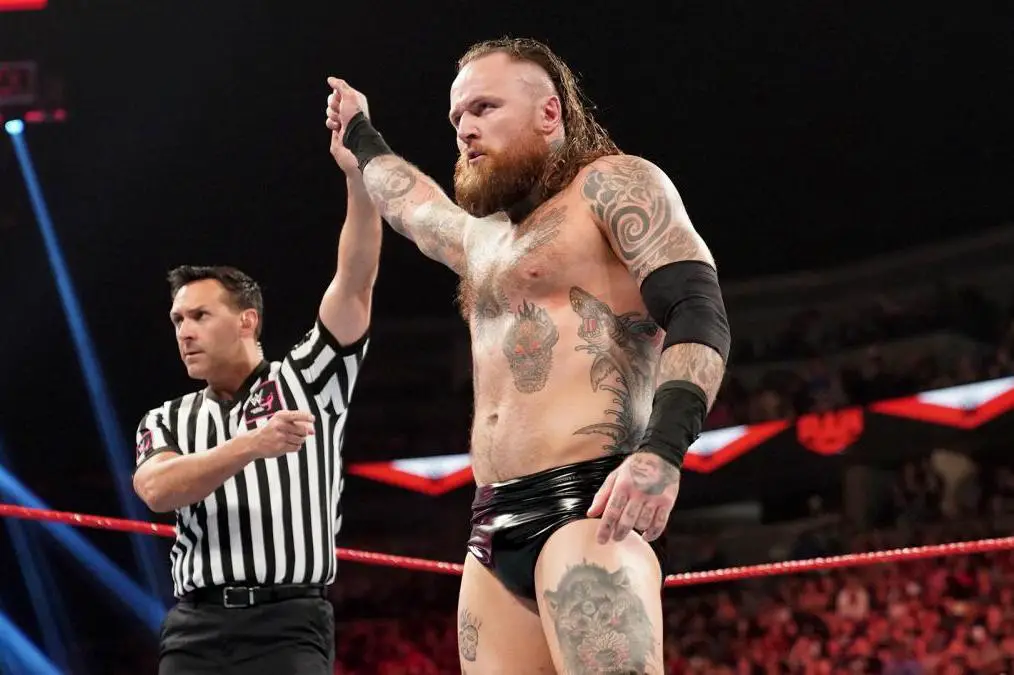 Given the subversive nature of his in-ring persona, you suspect that Cody Rhodes would be a fan of Aleister Black's work.
As is well documented, the leader of AEW has not been shy in offering contracts to stars released by WWE. Zelina Vega is the latest athlete rumored to be talking terms with the company following her release by Vince McMahon. We can put two and two together and consider the future position of her husband – yep, you guessed it, Black himself.
Vega came a cropper after flouting rules about what WWE superstars can and can't do online, with officials denouncing her presence on Twitch. She then set up an additional banned account, and that was the final straw for the family-focused brand.
Within hours of sub-tweeting about the need for 'unionization' at WWE, Vega was fired.
I support unionization.

— ?????? ???? (@Zelina_VegaWWE) November 13, 2020
All of which puts Black in an intriguing position. He is not happy at how his character is being built by WWE. There have been reports suggesting that he has even asked to be moved back to the NXT roster, a request denied by the firm's overlords.
For the time being at least, the 35-year-old will continue on the main roster. His online betting odds of +4000 to win the Royal Rumble suggest he has little chance of progressing his career at main event level in WWE. Concerns about his creative direction also suggest that Black will be looking for a way out sooner rather than later.
A solid in-ring performer with excellent mic skills, he would be a welcome addition to the AEW roster and would clearly benefit from the more sympathetic management styling of Cody.
'Watch this space' appears to be the message right now. 
Room to Breathe
In an interview with Sports Illustrated, Black was asked about the then-upcoming WWE Draft, and in it, he dropped some obvious clues that he wanted to return to the brand with which he made his name. "If I get drafted to NXT, I can continue a legacy that I was already building," he said. "I was part of a changing tide in NXT, and I can bring NXT to a new level from what I've gained on Raw and SmackDown over the past year-and-a-half."
A move to SmackDown was the outcome of the Draft for Black. With Seth Rollins due to take some time away from the blue brand due to his impending fatherhood, you wonder if the 35-year-old will be given a more prominent role.
But even then, could it be enough? Black has spoken about his desire to connect with fans through his troubled in-ring persona, but is the odd five-minute vignette enough for him to achieve that?
Out of the shadows, @WWEAleister STRIKES. #BlxckMass #WWERaw pic.twitter.com/MBSGzT34y4

— WWE (@WWE) October 6, 2020
Often the problem with multi-layered characters on the main roster is that they rarely have the time to build their story, and that seems to have hamstrung creative guys like Black in the past. AEW may be more sympathetic to those needs, and, while the roster of the gold brand continues to grow, the mysterious Dutchman would have the opportunity to develop his persona further.
He also boasts the hard-hitting style that Cody favors, and if given room to breathe, Black would be an outstanding addition to the AEW set-up. A hook-up with Kenny Omega, in particular, would be fascinating both in the ring and in the build-up.
It goes without saying that being separated from his wife will not sit well with Black. For a guy who has been itching for a move away from WWE's main roster for a while, this could well be the final nail in the coffin for his career with the organization.
Maybe McMahon's loss will, once again, be Rhodes' gain.
Be sure to join our
WWE / AEW Discord server
and connect with other pro wrestling fans.
---