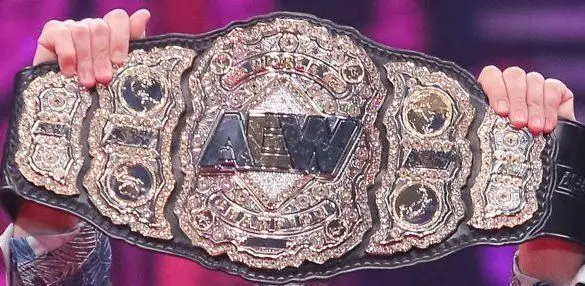 As previously reported, just days after Chris Jericho's historical and momentous AEW World Title win at last month's AEW All Out PPV Event against "Hangman" Adam Page, his AEW World Title belt was allegedly stolen while he was having his dinner at a Longhorn Steakhouse in North Monroe Street in Tallahassee, Florida.
According to an incident report that was listed by a local police blotter in Tallahassee, Florida, the alleged crime is being called as grand theft and Chris Jericho is listed as the victim – Christopher "Jericho" Irvine.
It was recently reported that a local police department in Tallahassee, Florida took to Facebook and made an announcement that the allegedly stolen AEW World Title belt had been found, but that post would be deleted moments after and another announcement was made that the investigation remains open and active. That post would show a picture of a police officer from the Tallahassee Police Department holding the allegedly stolen AEW World Title belt and Chris Jericho was even tagged in the post.
An update was recently provided by All Elite Wrestling that showed the same photo of the deleted post by the Tallahassee Police Department with the caption: "Case solved .. thank you @TallyPD" This was the same photo that had the caption: "Chris Jericho we have something that belongs to you. Celebrate with #ALittleBitOfTheBubbly. (responsibly of course)! More information to follow. #foundit #championshipbelt"
You can check out All Elite Wrestling's now-deleted post below:
Case solved .. thank you @TallyPD pic.twitter.com/DOGLBNwxea
— All Elite Wrestling (@AEWrestling) September 4, 2019