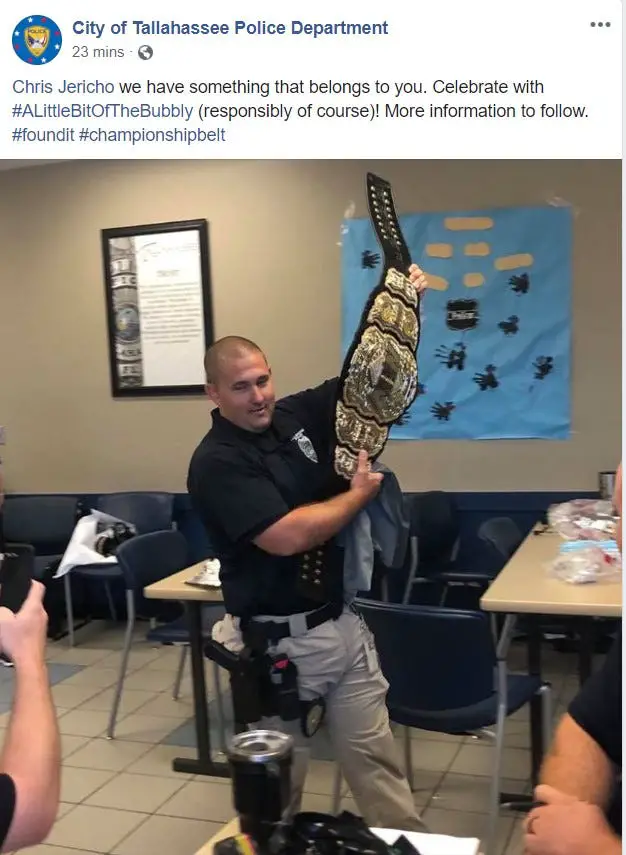 As previously reported, just days after Chris Jericho's historical and momentous AEW World Title win at last month's AEW All Out PPV Event against "Hangman" Adam Page, his AEW World Title belt was allegedly stolen while he was having his dinner at a Longhorn Steakhouse in North Monroe Street in Tallahassee, Florida.
According to an incident report that was listed by a local police blotter in Tallahassee, Florida, the alleged crime is being called as grand theft and Chris Jericho is listed as the victim – Christopher "Jericho" Irvine.
A video of AEW World Champion Chris Jericho was then posted by the company's official Twitter account in which he addressed the unfortunate incident and said that he will be launching a worldwide investigation, he will be using the top private investigators in the world today to find out who committed the crime and he promises to regain, to restore, to find and to reclaim the AEW World Championship.
The incident was met with somewhat of a strange and bizarre twist as the local police department in Tallahassee, Florida made an announcement on Facebook that the AEW World Title belt had been found, but would delete the post moments after and announce that the investigation remains open and active.
A reporter for Tallahassee.com would then ask about the Facebook post, which would ultimately surprise Officer Damon Miller, who is the spokesman for the Tallahassee Police Department.
This is what Officer Damon Miller said: "Still an open and active investigation." "The case has not been closed yet."
A spokeswoman named Kristin Colville for the Longhorn Steakhouse, where the incident took place, then said in an interview to Tallahassee.com that she doesn't have the details on the alleged theft, but that she knows the Tallahassee Police Department is investigating the alleged crime.
The Facebook post that was deleted showed a picture of a police officer from the Tallahassee Police Department holding the allegedly stolen AEW World Title belt. The post even had the caption that said: "Chris Jericho we have something that belongs to you. Celebrate with #ALittleBitOfTheBubbly. (responsibly of course)! More information to follow. #foundit #championshipbelt"
You can check out a screenshot of the deleted Facebook post below:
Be sure to join our
WWE / AEW Discord server
and connect with other pro wrestling fans.
---