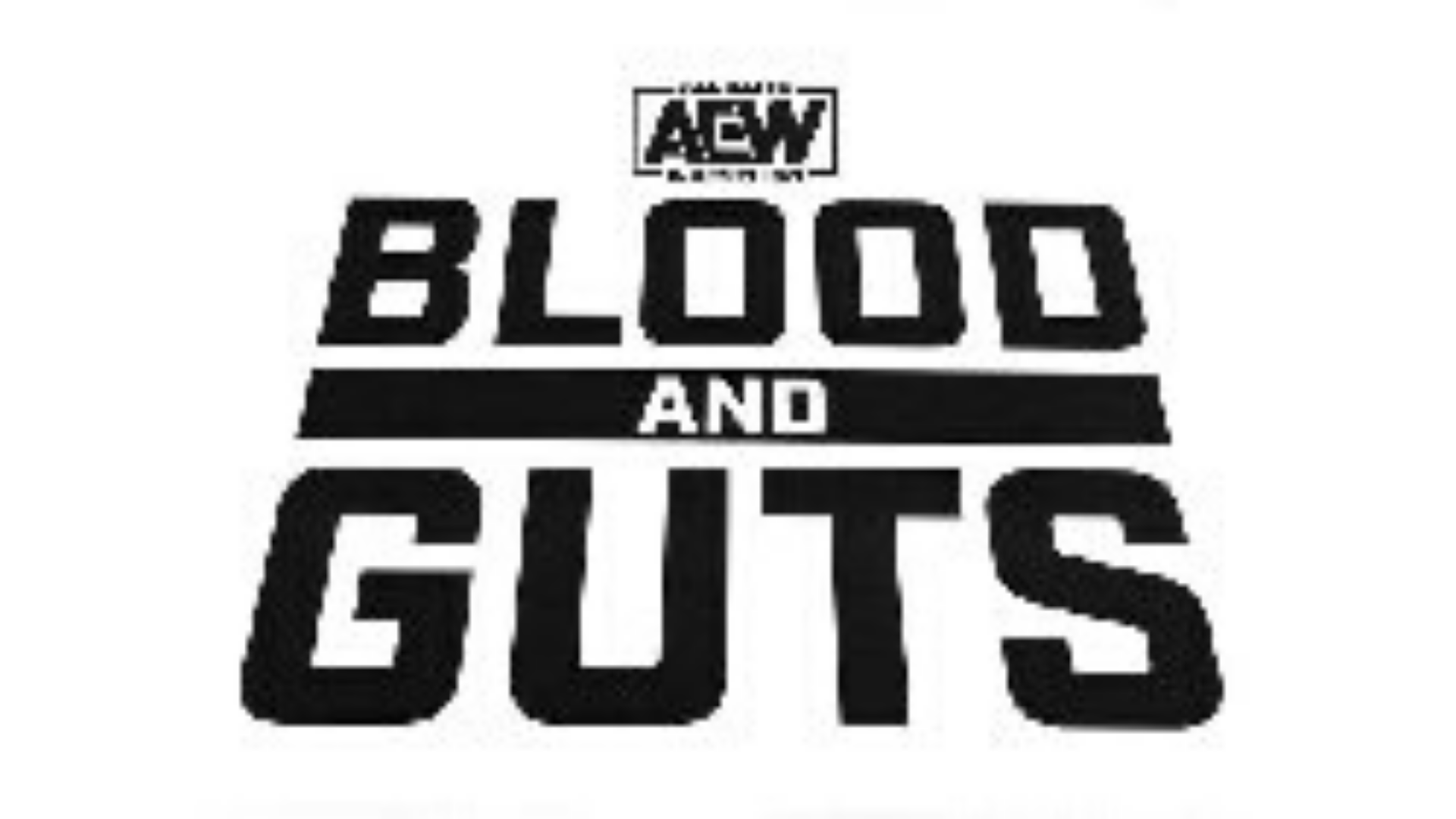 All Elite Wrestling President and CEO Tony Khan, during a recent media scrum at Full Gear in Baltimore, said AEW plans on doing four major PPV's per year. We have three PPV's already named. We were missing the fourth until now.
"There's going to be another one on that Mount Rushmore of quarterly big pay-per-view shows."
"So in Q1 there will be something, we'll make an announcement very soon. "
Currently, those AEW PPV names are Double or Nothing, All Out, and Full Gear. Now we know the name of the fourth PPV.
All Elite Wrestling Blood And Guts
In a trademark filing on November 13, 2019, All Elite Wrestling submitted the following;
The mark consists of the stylized wording "ALL ELITE AEW WRESTLING" where "AEW" is housed inside a rectangular border, the words "ALL ELITE" are superimposed on the top of the border, and the word "WRESTLING" is superimposed at the bottom of the border. Below the stylized wording is the term BLOOD AND GUTS in larger font, with the word BLOOD at the top, the word AND in the middle of a line and the word GUTS at the bottom.
The language of the trademark follows along with the standard writing AEW has used in previous trademark filings.
Goods and Services IC 009. US 021 023 026 036 038. G & S: Downloadable ring tones, graphics and music via a global computer network and wireless devices; video and computer game tapes, video and computer game discs, video and computer game cassettes, video and computer game cartridges, video and computer game cd-roms; downloadable video and computer game software; cinematographic and television films featuring sports, entertainment and subjects of general human interest; pre-recorded phonograph records, pre-recorded compact discs, pre-recorded video tapes, pre-recorded video cassette tapes, pre-recorded dvds and pre-recorded audio cassettes, all featuring sports, entertainment and subjects of general human interest; downloadable interactive video game programs and computer game cartridges; decorative refrigerator magnets; mouse pads; disposable cameras; sunglasses; sunglass cases; prescription glasses; and optical cases, namely, cases for spectacles and sunglasses; walkie talkies, protective helmets; sports helmets
We don't know when the PPV will take place. Only that it would be in the first quarter of 2020, we assume it would be during February or March. Stay with Pro Wrestling News Hub for details as they become available. 
Be sure to join our
WWE / AEW Discord server
and connect with other pro wrestling fans.
---