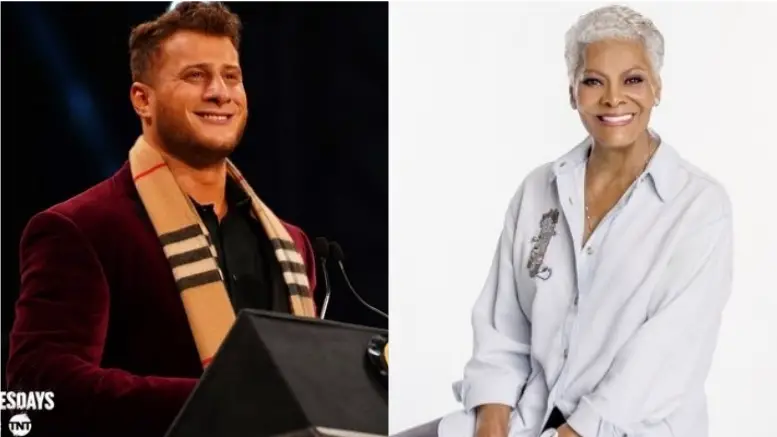 It was previously reported that an AEW segment called Le Dinner Debonair, which features two of their top stars in "Le Champion" Chris Jericho and MJF made the New York Times' "Best Performances of 2020" list. This huge announcement would lead to a Twitter war between top All Elite Wrestling Star MJF and legendary singer and actor Dionne Warwick.
Dionne Warwick fired the first shot when she wrote, "This photo made me think I was booked to wrestle somewhere. Almost called my publicist." MJF then responded with, "You better pray you aren't or you'd be in a world of pain, princess. #BetterThanYou."
Warwick then fired back with, "I have an interview with @InStyle in 5 minutes. You're lucky this time (fighting emoji)." MJF then responded with one of Dionne Warwick's songs writing, "Yeah yeah, Dionne. Just 'Walk on By.' Smart."
Dionne Warwick then responded with a GIF of two elderly men fighting with canes and the caption, "Try Jesus, @The_MJF. Not me."
Speaking of Dionne Warwick and The NY Times list, Dionne made the list as well due to her presence on Twitter, where she recently went viral for a tweet that warned Spotify users that artists can see the name of the playlists that include their music. The list also included Amanda Seyfried, Anya Taylor-Joy, Pete Buttigieg and Jake Lacy.
You can check out the tweets below:
This photo made me think I was booked to wrestle somewhere. Almost called my publicist. https://t.co/Ds7gMM8ZKa

— Dionne Warwick (@_DionneWarwick) December 4, 2020
---
You better pray you aren't or you'd be in a world of pain, princess. #betterthanyou https://t.co/BoDyjWMdab

— Maxwell Jacob Friedman™️ (@The_MJF) December 4, 2020
---
I have an interview with @InStyle in 5 minutes. You're lucky this time. 🤼‍♀️ https://t.co/e66ignINYc

— Dionne Warwick (@_DionneWarwick) December 4, 2020
---
Yeah yeah Dionne just "walk on by".

Smart. https://t.co/SKEdzhOfWO

— Maxwell Jacob Friedman™️ (@The_MJF) December 4, 2020
---
Try Jesus, @The_MJF. Not me. pic.twitter.com/X99a0GyvzZ

— Dionne Warwick (@_DionneWarwick) December 4, 2020

AEW Women

#sp-player-gallery-4352 { margin: auto; } #sp-player-gallery-4352 .gallery-item { float: left; margin-top: 10px; text-align: center; width: 33%; } #sp-player-gallery-4352 img { border: 2px solid #cfcfcf; } #sp-player-gallery-4352 .gallery-caption { margin-left: 0; } /* see gallery_shortcode() in wp-includes/media.php */