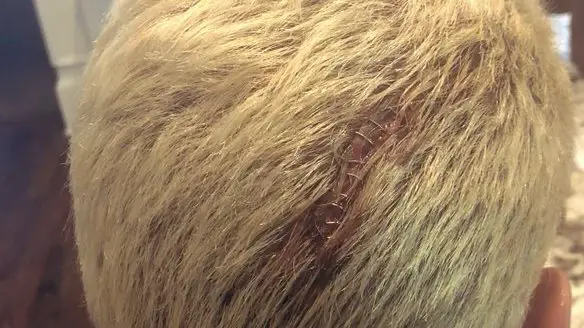 Ever since Cody Rhodes was a victim of a vicious chair shot from Shawn Spears at this past Saturday night's AEW Fyter Fest PPV Event. The shot had him bleeding profusely from the back of his head. The incident had been the talk of the pro wrestling community.
It was after a grueling 20-Minute time limit draw between Cody Rhodes and Darby Allin that Shawn Spears made his presence felt. He viscously attacked Cody Rhodes from behind with a steel chair. At the time, All Elite Wrestling would note that Cody Rhodes did not suffer any concussion and that it took up to 12 staples to close up the wound in his head.
An update was recently provided by Cody Rhodes in which he said that he needed 10 staples to close up the wound, not 12. Rhodes then added the word "legit." The All Elite Wrestling commentary team would even show their care and concern for the health and well being of Cody Rhodes and a potential head injury that he may have suffered. The commentary team even mentioned the possibility that Cody Rhodes may have suffered a CTE.
After this past Saturday night's AEW Fyter Fest PPV Event, All Elite Wrestling President Tony Khan spoke to the media and said that the chair shot was actually part of a gimmick but something went wrong.
This is what Tony Khan said: "We called a doctor immediately." "Obviously really regrettable what happened. I don't know if this is the time to go into detail about what happened but we had taken precautions in this situation and that specific situation. A doctor was available and Cody does not have a concussion and had staples and we're all very grateful for that."
Below was the update recently provided by Cody Rhodes:
Be sure to join our
WWE / AEW Discord server
and connect with other pro wrestling fans.
---