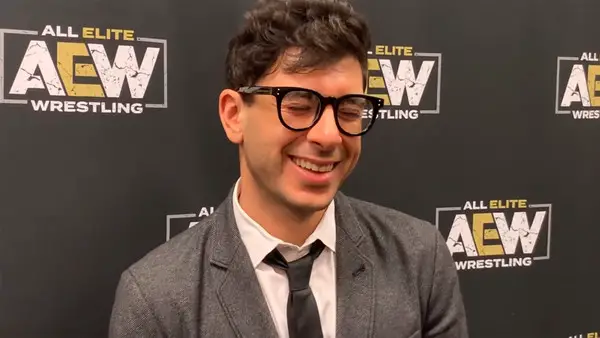 Immediately following this past Saturday night's AEW Fyter Fest PPV Event, AEW President Tony Khan was part of a media scrum in which he discussed the two things he hated about last year's ALL IN PPV Event including the main topic of discussion he was asked about which was if we will ever see Intergender Wrestling on All Elite Wrestling.
When discussing about the possibility of if we will ever see Intergender Wrestling in AEW, Tony Khan brought up an incident that happened at last year's ALL IN PPV Event during the Over Budget Battle Royal in which Jordynne Grace got punched in the face, hence the reason for Tony Khan not being interested in having Intergender Wrestling in AEW.
This is what Tony Khan said: "Probably won't see it in AEW." "If there was one thing—how many of you guys were at All In? In the battle royal, anybody remember when Jordynne Grace got hit in the face? That was probably the thing I didn't like about All In."
"I don't think that's cool. I'm really against domestic abuse, and I'm not saying that is, but it's a really complex question that I knew it would come up sooner or later. But it's probably not what we're gonna do, we're gonna focus on a men's division: singles and tag, and a women's division: singles and tag. Mixed matches, we're probably not gonna focus on them."
Tony Khan also discussed another reason why he hated ALL IN. Tony Khan revealed that he really didn't like the p**is druids of Joey Ryan. Khan also mentioned that despite Adam Page winning the match, everyone forgot about it due to the druid's segment afterward, but he feels that Adam Page will be a big star in All Elite Wrestling.
This is what Tony Khan said: "There were two things I didn't like about All In, [Jordynne Grace getting punched], and the penis druids." "I couldn't do the penis druids on TV. I wouldn't be able to do that on TV, on PPV you could probably do that, on PPV I would have done the penis druids."
"Here's what I didn't like about it at the time, I'm a big 'Hangman' [Adam Page] guy and he won the match, and you almost kind of forgot he won the match. He's a big guy and you want to protect that guy in that situation. You feel real strong about that guy, and then look at our company now after the two big shows we've done, I think he's come out and delivered."
You can check out Tony Khan's full comments in the video below:

AEW Women

#sp-player-gallery-4352 { margin: auto; } #sp-player-gallery-4352 .gallery-item { float: left; margin-top: 10px; text-align: center; width: 33%; } #sp-player-gallery-4352 img { border: 2px solid #cfcfcf; } #sp-player-gallery-4352 .gallery-caption { margin-left: 0; } /* see gallery_shortcode() in wp-includes/media.php */