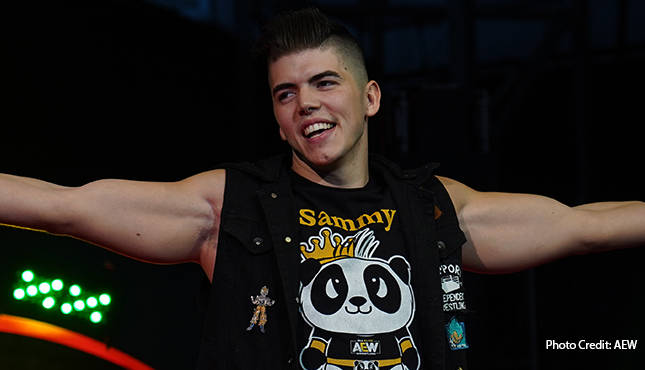 According to SlamWrestling.net's Bob Kapur, AEW Star Sammy Guevara has now put himself in "hot water" with All Elite Wrestling top officials, specifically AEW President Tony Khan, after pulling out of an angle with IMPACT Wrestling that was already planned and set in stone. PWInsider then confirmed Sammy Guevara has been removed from IMPACT Wrestling's recent TV tapings altogether.
The story goes that after Sammy Guevara left the Inner Circle stable on a recent episode of Dynamite, Chris Jericho proposed an idea that would have seen Guevara appear on IMPACT Wrestling, and Tony Khan and IMPACT Wrestling officials didn't waste any time as they immediately worked on possible plans and storylines. Tony Khan then contacted IMPACT Wrestling officials about an idea to include Guevara in a storyline and after a couple of suggestions, the green light was given and the angle was set.
However, the day before the storyline was supposed to take place, Guevara did not go to Nashville and rescheduled himself to arrive in Nashville just a few hours before the tapings would begin.
PWInsider also reported that Sammy Guevara directly made contact with IMPACT Wrestling officials via text message to voice his concerns about the planned creative direction and informing them about alternative ideas and "not wanting to do what was agreed on."
IMPACT Wrestling officials then contacted Khan and Jericho, with Jericho advising IMPACT Wrestling to ban Guevara from ever appearing on their show. IMPACT officials then canceled Guevara off the tapings and Jericho reportedly informed Guevara to not bother showing up and to return home.
It seems that AEW President Tony Khan and Chris Jericho are extremely upset with Guevara for changing the plans after they had already contacted IMPACT Wrestling officials about a last-minute change, but PWInsider.com is reporting that what had been originally planned for Sammy was instead given to Black Taurus.
PWInsider.com is also reporting that sources within IMPACT Wrestling have indicated that there was no issue with AEW at all and that the relationship between the two promotions is still "golden."
Be sure to join our
WWE / AEW Discord server
and connect with other pro wrestling fans.
---