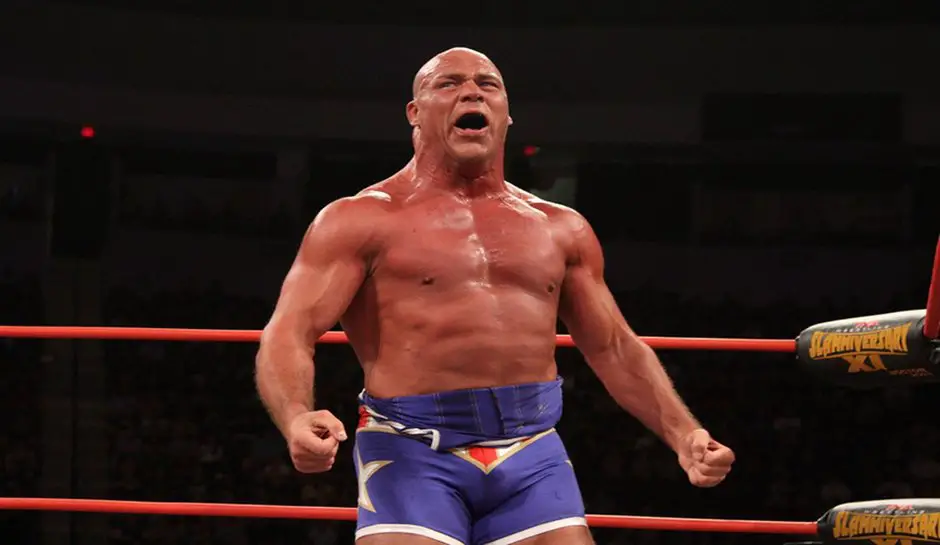 WWE Hall of Famer and one of pro wrestling's all-time greats "The Olympic Gold Medalist" Kurt Angle recently took part in a Q&A with Pro Wrestling Junkies to discuss a number of topics related to pro wrestling, including top AEW Star "Le Champion" Chris Jericho being one of the best wrestlers of all time and more.
Below are the highlights:
On top AEW Star "Le Champion" Chris Jericho being one of the best wrestlers of all time:
"I've also been watching Chris Jericho, and wow! He's still so good. I'm so jealous of that son of a gun. He's my age, and how he's still able to go at this level like he's doing right now, especially after 25-30 years in the ring, he's phenomenal.

He might go down in history, this is me speaking, but he might go down as top 5 of all time. He's still as good as he ever was. I wouldn't mind having one more round with Jericho, but that's not going to happen."
On how he was originally supposed to face Jason Jordan at WrestleMania but Jordan hurt his neck:
"I didn't really get who I wanted. I was in a program with Jason Jordan. We were supposed to work that up to WrestleMania but he ended up hurting his neck, and they replaced him with Baron. [Vince McMahon] didn't know that I wanted to retire. I wanted to retire because I wasn't the same anymore.

My body was getting really arthritic from not working. It didn't go as I hoped. I told Vince I wanted to wrestle John Cena because I started his career and I wanted him to end mine – it just made sense to me. He told me no and that I was getting Baron Corbin. He said that if wanted Cena, I'd have to wait until next year, but I didn't want to go another year. Baron is a great athlete and a great worker, but where he was at the time might not be at the level where Hall Of Famers would feel totally comfortable with.

He was great to work with; I didn't have a problem with that. I had a little bit of a problem retiring with him. I don't want to put him down because he's good, but I wanted to go with John Cena because it just made sense. I don't want to say I had the worst retirement match, but wrestling Baron wasn't exactly my dream match. Back then, he just wasn't there."
Be sure to join our
WWE / AEW Discord server
and connect with other pro wrestling fans.
---