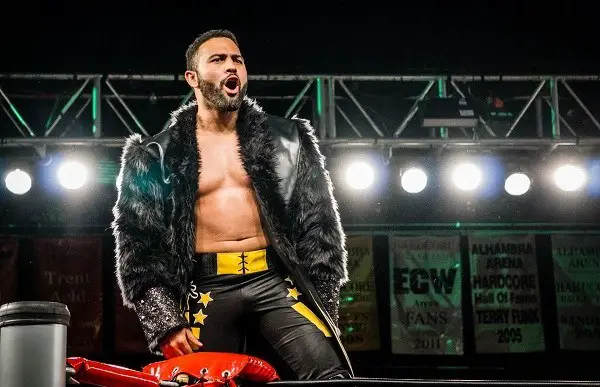 In an exciting development for the pro wrestling world, Tony Khan, the enigmatic entrepreneur behind AEW, recently responded to the new partnership between AEW and CMLL. The alliance, already gearing up for colossal battles, will soon be presenting Mistico vs Rocky Romero on the much-anticipated Rampage set for October 20, 2023.
Mistico, recognized for his notable stint as the original Sin Cara in WWE, will be marking his AEW debut tonight. As the current CMLL World Historic Middleweight Champion, he is slated to clash with the CMLL World Historic Welterweight Champion, Rocky Romero. Now, isn't that something to get the wrestling fans' adrenaline pumping?
Interestingly, spoilers for the October 20 episode of AEW Rampage, have already started making the rounds, attempting to predict the outcome of the Mistico-Romero bout. If you intend to stay surprised, steer clear of these little forecasts.
With Mistico entering the AEW arena and enhancing ticket sales for Wednesday's Dynamite, it's clear that this partnership is already bearing fruit. Wrestling buffs are thrilled about the prospect of Mistico's epic showdown taped for the mid-week event.
Indeed, an appreciative Tony Khan took to social media, expressing his gratitude towards CMLL, stating, "Thank you @CMLL_OFICIAL, Mr. Salvador Lutheroth. It was an honor to host you at AEW, and I'm very excited about CMLL & AEW working together & excited for a great weekend of #AEWonTV starting TOMORROW with Mistico vs Rocky Romero."
The post was in response to CMLL's own statement (translated by Fightful) hinting towards a solid relationship and fruitful collaboration between both party and the golden opportunities to throw their talent into the international spotlight through AEW.
What's more, it extend thanks to Khan and AEW for their warm welcome during Mistico and Rocky Romero's clash scheduled to air on October 20 on TNT. The excitement is further fueled with CMLL expanding their presence in the United States, thanks to a partnership between Denver Broncos and CMLL, blending wrestling action with the upcoming NFL fixture.
And if you're still curious about what the wrestling world offers outside the ring, don't miss out on our book 'Wrestling Unmasked'. Time for fans to delve deeper into the behind-the-scenes drama and political frictions.
Join us as we continue to follow the burgeoning CMLL-AEW partnership, and the exciting new chapter it signifies for wrestling entertainment.
Be sure to join our
WWE / AEW Discord server
and connect with other pro wrestling fans.
---