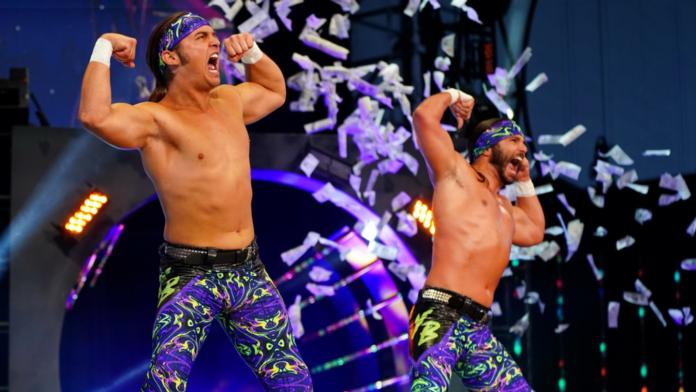 The Young Bucks (Matt Jackson and Nick Jackson) is one of the greatest and most successful tag teams in all of wrestling as they have captured a number of World Tag Team Titles in several different pro wrestling companies around the world such as ROH, NJPW, and most recently, All Elite Wrestling.
Aside from being the current AEW World Tag Team Champions, the Young Bucks are also the EVPs for All Elite Wrestling. Their duties and responsibilities does not stop in the ring as they also handle the business side of things for AEW, which means that they also handle the behind-the-scenes work for AEW Dynamite.
The Young Bucks recently appeared as a guest on Wrestling Inc.'s Daily podcast, where they gave their thoughts on their time in the Indie scene and how they made it in wrestling.
This is what The Young Bucks said:
"Maybe so. What's funny though is it didn't really feel like an indie boom period at that time, specifically in California because a lot of people from California will say the same thing." "They'll say, 'Get out of California if you want to make it in wrestling,' and we always heard that as young wrestlers."
"And it actually scared us because we're like, 'Man, really? Do we have to move somewhere?' And we never wanted to because we're California boys, and so it was like, 'Man, how do we get out of California to make it?' And luckily, we got a break, and we went to Japan for the very first time in 2009. So it actually took us quite a few years to get a small break to get out of California, but getting out of California actually helped our career more, and I would say the indie boom period actually came a little bit later after that."
The Young Bucks previously mentioned their interaction with WWE Hall of Famer Shawn Michaels and how surreal it was to meet their idol. During the interview, they were asked about now going head-to-head with Shawn Michaels in the Wednesday Night Wars as he alongside Triple H produces and handles all WWE NXT business and television related matters.
According to the Bucks, with everything that is going on with Dynamite, it is hard to even think about the other show at all. Matt and Nick also said that the mentality of Dynamite and AEW is they would never want to know what their rival is doing because they feel like if they do know, then it might screw up their brains and their minds on how they book their shows.
This is what The Young Bucks said:
"It's weird when you're in the thick of things and you're in the middle of it all, you don't even think about it." "So it's probably something we'll think about later on in life, but as of now, I didn't even think of that question because we're so involved with every detail [and] every little thing that's going on with Dynamite that it's hard to even think about the other show at all."
"I forget that they have shows." "It's tunnel vision to our own product. It's like, 'Oh yeah, that's right. There's another show tonight. That's right.'"
"And that's the mentality of Dynamite and AEW is we'd never wanted to know what that show is doing because we feel like if we do know, then it might screw up our brains and our minds on how we book things as well." "So we never have wanted to get caught up in any of that."
You can check out The Young Bucks' comments in the video below:

AEW & NXT TV RATINGS: Dynamite Finishes 48th, NXT 58th, January 6th, 2021