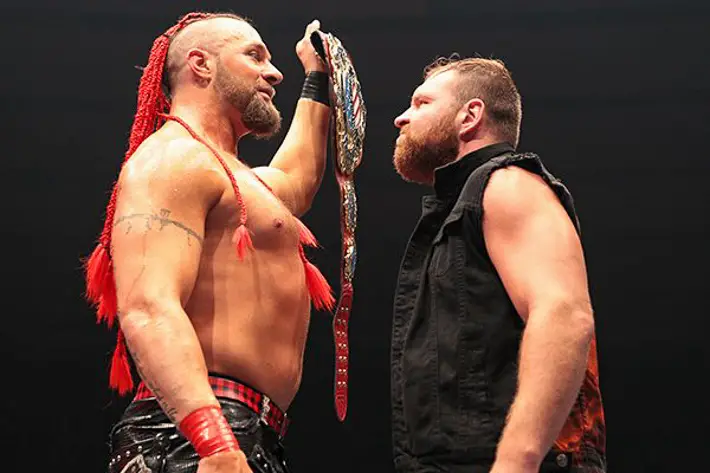 It was on night 1 of Fyter Fest that Lance Archer so enthusiastically challenged Jon Moxley for his IWGP US Championship. So…what can we expect from the Texas Death Match with Jon Moxley and Lance Archer?
In one word: Mayhem.
There's no other way to put it. We know that both men are willing to push their bodies to the limit and are both famous for laying it on very thick when the high octane is concerned, and that's what people love about them both.
The match should be extremely interesting to say the least.
It was after Mox won his match against Karl Anderson that Archer made his challenge on Wednesday night, and Mox was very quick to accept that challenge…and did I see some drool at the corner of his mouth? Probably, as no matter what's going on in his life, he's always ready for a match that pushes the boundaries of where modern day wrestling has gone, which for now is more that can be said about most anyone at WWE. Of course the talent at WWE has a few more constrictions to deal with, but I digress.
History of the Texas Death Match
According to prowrestling.fandom.com, the famed Texas Death Match is an interesting little match (note the sarcasm please) in which the two wrestlers fight until a pinfall is achieved. Once the pinfall is achieved, the referee starts a ten count, which is usually seen in a Last man Standing match. The only difference here is of course the pin before the count commences.
But of course, the exact rules have come under scrutiny as they have varied from promotion to promotion…
In 1981, while at an event for Championship Wrestling from Florida, legend Dory Funk explained the rules of a Texas Death Match in detail. Among those rules: No time limit, no disqualification, no stoppage of the match because of one wrestler's beginning to bleed out, and in his version of the rules, falls don't count at all.
It'll be interesting to see which rules are applied in the match set for next week. Will they be the same as last time these two faced each other at the Tokyo Dome or not? These are some comments Archer made earlier this year regarding his first Texas Death Match with Mox in Tokyo, according to sportskeeda:
"Yeah, I mean you can't not look at the past and see what has happened before, and the fact that I actually got to step in the ring with Moxley in the Tokyo Dome at the very beginning of 2020 before everything kind of went crazy. For me, it was the biggest match I've had on the biggest stage I've ever had to work with Moxley. And it was a two-night event for New Japan at the time. We had two nights of Wrestle Kingdom…First night had the most fans, 45,000 or something like that, and we had the most unique match. It was a Texas Death Match."

via Sportskeeda
Notable encounters of the infamous type of match include: Vader against Mick Foley (Cactus Jack), Hulk Hogan and Harley Race and of course Mick Foley against none other than The Sandman.
Be sure to join our
WWE / AEW Discord server
and connect with other pro wrestling fans.
---