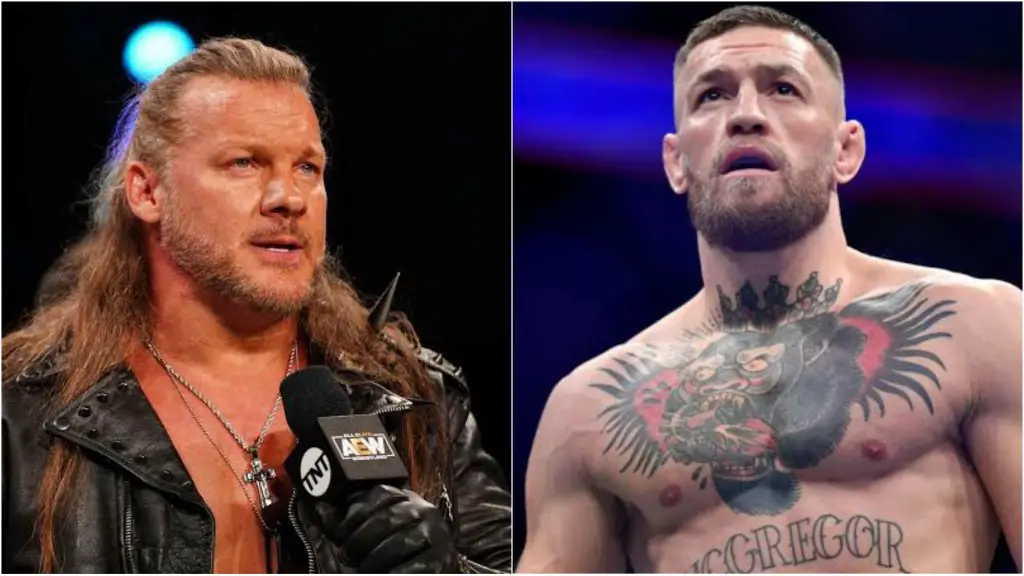 Chris Jericho recently delivered some pretty harsh comments directed at mixed martial arts fighter, Conor McGregor after his recent loss to Dustin Poirier. The UFC fight was stopped after McGregor suffered a broken leg and it was decided that he wasn't medically or rather physically able to continue. That was quite obvious, but what weren't obvious were the comments that Jericho launched soon after the bout.
Jericho's comments, which were transcribed by WrestlingInc, after Jericho's recent installment of Keepin It 100 with Konnan, included:
"Conor's done and I think everyone knows it…I think he knows it. I think the best thing that could've happened is that he snapped his ankle, because he would've lost in the second round. Herb Dean almost called it at the end of the first, but he was letting it go because it was towards the end and it's a championship, million dollar fight. Not a championship but it was a million dollar fight. Those elbows in the corner man, once you get a guy down like that he's finished…I think it was actually a stroke of fate that's going to end up making them all more money that Conor broke his ankle. Because he would've been done in about another two minutes anyway. The only thing I would say for Dustin, if he's going to take a number four, which I would say 'go (Expletive) yourself, I'm not doing it.' I'd say 'okay, you want number four? I want a 50-50 purse split with Conor.' See what happens. If he can get 50-50, take it. If not, see you later buddy. What's the point? Conor's done."

via Keepin It 100 with Konnan / Transcription: WrestlingInc
So as they say, Dem's fightin words!
After reading the comments, one need only wonder if McGregor will heed to the call put out across the airwaves by Jericho and come to AEW.
We're reminded of Undertaker when he broke Kayfabe and attended Brock Lesnar's fight at UFC 121 way back in 2010 when Brock faced Cain Velasquez and lost. Of the event, Taker said:
"I was there to pick a fight…I was sent there personally to pick a fight…I thought there had been some discussion between (Dana White) and Vince (McMahon)"—which apparently there wasn't—"I was there to pick a wrestling fight, bring him back to our world…" 

via talksport.com
He said the same when asked about that moment at UFC 121 by Steve Austin on The Broken Skull Sessions. It worked and that moment ended up ushering in Brock's return to WWE a few years later and his ultimate win against Taker where he broke the Dead Man's historic undefeated streak at WrestleMania.
The parallels between both situations are pretty amazing, these comments are very reminiscent of what happened over ten years ago between the two legends and maybe Jericho is simply trying to do the very same, which is extremely smart business on his part. A lot of money can be drawn with this possibility quite obviously.
McGregor has been hinting at a possible career in professional wrestling for a while. In 2016 he had this to say about John Cena:
"What's the main guy? John Cena…He's 40. He's 40 years of age. He's walking around in a luminous orange T-shirt and a headband talking about nobody can see him. We can see him right there. He's a big, fat, 40-year-old failed Mr. Olympia (Expletive)."

via bleacherreport.com
What was that I said about fighting words?
Now all that remains to be seen is how he responds to Jericho.
First he needs to heal after his battle and loss to Poirier, but the future is exciting with perhaps two companies—the two biggest companies in the wrestling business—vying for this ultimate fighter.
What a run he could have, especially at AEW, if you ask me, but only time will tell.
Be sure to join our
WWE / AEW Discord server
and connect with other pro wrestling fans.
---