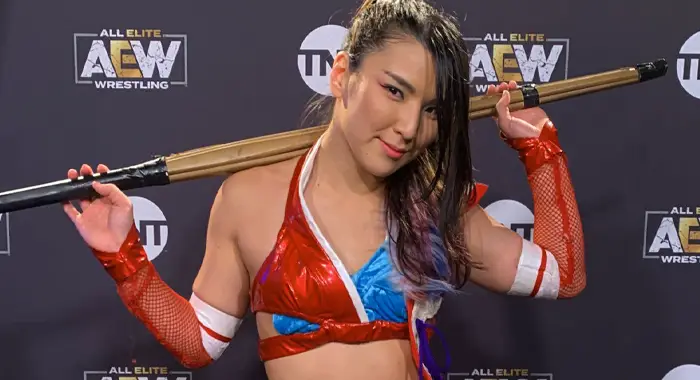 Inaugurated in 2008, PWI magazine's women's ranking has now included 100 wrestlers for the past two years. And it is the SmackDown Bayley champion who leads the way.
Pro Wrestling Illustrated magazine unveiled last Thursday the front page of its upcoming special PWI Women's 100 magazine, its ranking of the world's top 100 female wrestlers. A ranking in which the SmackDown champion for more than a year now, Bayley, has taken the lead.
The top 5 of the ranking is composed only of WWE wrestlers. Becky Lynch slides into second place, followed by RAW champion Asuka on the third step of the podium. Charlotte Flair and Sasha Banks close this top 5.
Following in the rankings are AEW champion Hikaru Shida, former Impact Wrestling champion Tessa Blanchard followed by Riho (former AEW champion), Io Shirai (NXT champion) and Mayu Iwatani.
PWI WOMEN'S TOP 10 100
Bayley
Becky Lynch
Asuka
Charlotte Flair
Sasha Banks
Hikaru Shida
Tessa Blanchard
Riho
Io Shirai
Mayu Iwatani
Note the entry in the ranking of French wrestler Amale in 51st place, wXw champion for more than a year, who has been on contract with WWE since this summer and who made her debut at NXT UK two weeks ago.
This ranking was established over the period from October 1, 2019 to September 30, 2020, during which time Bayley was virtually champion from start to finish. The rankings are based on the championships won, the quality of the opponents, the wrestler's technique, wins/losses and pushs.
As a reminder, the BBC announced in April the release of some of WWE wrestling's biggest stars. Moreover, Jon Moxley offered himself the head of the PWI 500 ranking this year, the originally male ranking which since this year includes some women who have wrested in matches, competitions or inter-gender promotions.
The place of bookmakers in the world of wrestling
Sports betting was a trend even before the existence of online sports betting. Anyone can bet on different sports, in different countries, through different websites and software. There is a lot of strong negative criticism against betting on World Wrestling Entertainment (WWE), and it is obvious why. 
Professional wrestling is a combination of fighting sport and entertainment that has developed especially in the last decades. Although considered a sport, wrestling is now part of the entertainment industry – especially because of its unpredictable and exaggerated maneuvers, yet widely accepted by its large fan base. 
But betting on such a sport can be very complex because of the constant uncertainty. Many bookmakers such as Betiton (the new bookmaker in New Zealand) have started offering WWE betting in addition to their entertainment offers around online casino games such as poker, roulette and blackjack, amongst others. These bookmakers often offer various bonuses and welcome offers to allow their players to bet without risk.
If you like sports with lots of action, entertainment and unpredictable moves, you are probably a wrestling fan. However, it's not surprising that some people disagree with the idea of betting on the WWE. It is one of the industry's (least kept) secrets that the games are scripted and organized with winners who are already predetermined with scriptwriters.
They focus on the characters who are fighting to become champions (again, according to the preferences of the writers). Characters win when they knock their opponent down by counting three in a duel: this is the typical scenario. However, WWE organizers and scriptwriters often create atypical situations several times in their shows. For example, some wrestlers sometimes show up in each other's duel outside of the allotted time to try to win the match they are not part of.
Be sure to join our
WWE / AEW Discord server
and connect with other pro wrestling fans.
---