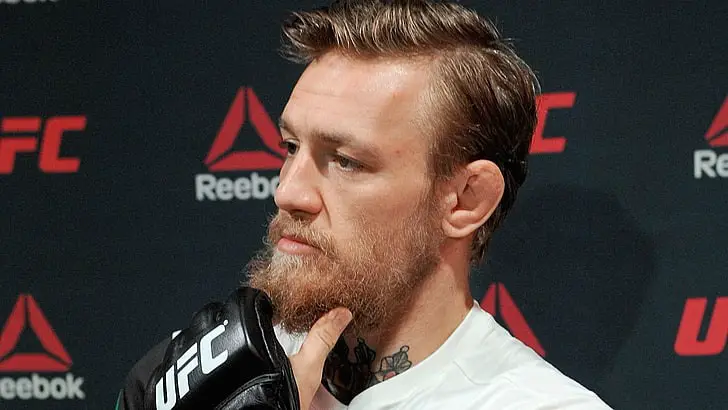 All combat sports boast great trilogies. Whether it's The Rock and Stone Cold Steve Austin facing off at three editions of WrestleMania, Muhammad Ali and Smokin' Joe Frazier from boxing, or Daniel Cormier and Stipe Miocic in UFC, good things come in threes.
The latest trilogy in MMA comes to a head on the night of July 10 when Conor McGregor, who has teased crossing over into pro wrestling in the past, meets Dustin Poirier for a rubber match. The tale of the tape sees "The Notorious" Irish cage fighter and the man they call "The Diamond" 1-1 in past encounters.
UFC 264 on a summer night in Las Vegas is the perfect stage for this feud to end. Going into the bout which is a number one contender's match for the Lightweight Championship in all but name, the Conor McGregor odds make him favorite to get the victory. Poirier isn't far behind him with oddsmakers, however, so expect a close contest.
The reason for the pair being so well-matched is McGregor hasn't beaten this opponent since they met in a Featherweight fight back in 2014. That encounter was over early with the Irishman recording a first-round stoppage of Poirier, who then had to rebuild his MMA career.
Rebuild it he did, however, and The Diamond exacted revenge on McGregor in the main event of UFC 257 in January of this year. Poirier won by TKO about halfway through round two, so both men have had their hand raised inside the octagon and something has got to give.
As well as trading losses with one another, this pair have also tapped out to the now retired Khabib Nurmagomedov, who has to be in the conversation for greatest cage fighter of all-time and the top Lightweight in MMA of his generation. McGregor went down to the Russian first, submitting in round four of their UFC 229 encounter in the fall of 2018 that is infamous for its heated build-up and aftermath.
Matters in and around Poirier's shot at Khabib were decidedly calmer, albeit with the same result. Headlining UFC 242 the following year, he lasted less than three rounds with the submission specialist who would fight once more before calling time on his MMA career.
McGregor has "retired" from the octagon himself before, only to come back for a couple of big PPV paydays. This may well be another, but the winner likely meeting Charles Oliveira, Khabib's successor as UFC Lightweight champion, down the line adds extra incentive.
Poirier has only been the interim champ of the division, yet the official rankings have him as number one contender going into the trilogy bout with McGregor. The strength-in-depth of this particular weight class has been there for all to see for some time, so this certainly shapes the title picture.
There is also an element of this being McGregor's last chance at getting in line for a championship in the UFC. He hasn't competed in MMA regularly since 2016 and has interests outside the sport but, as his last bout shows, cannot afford to take Poirier lightly.