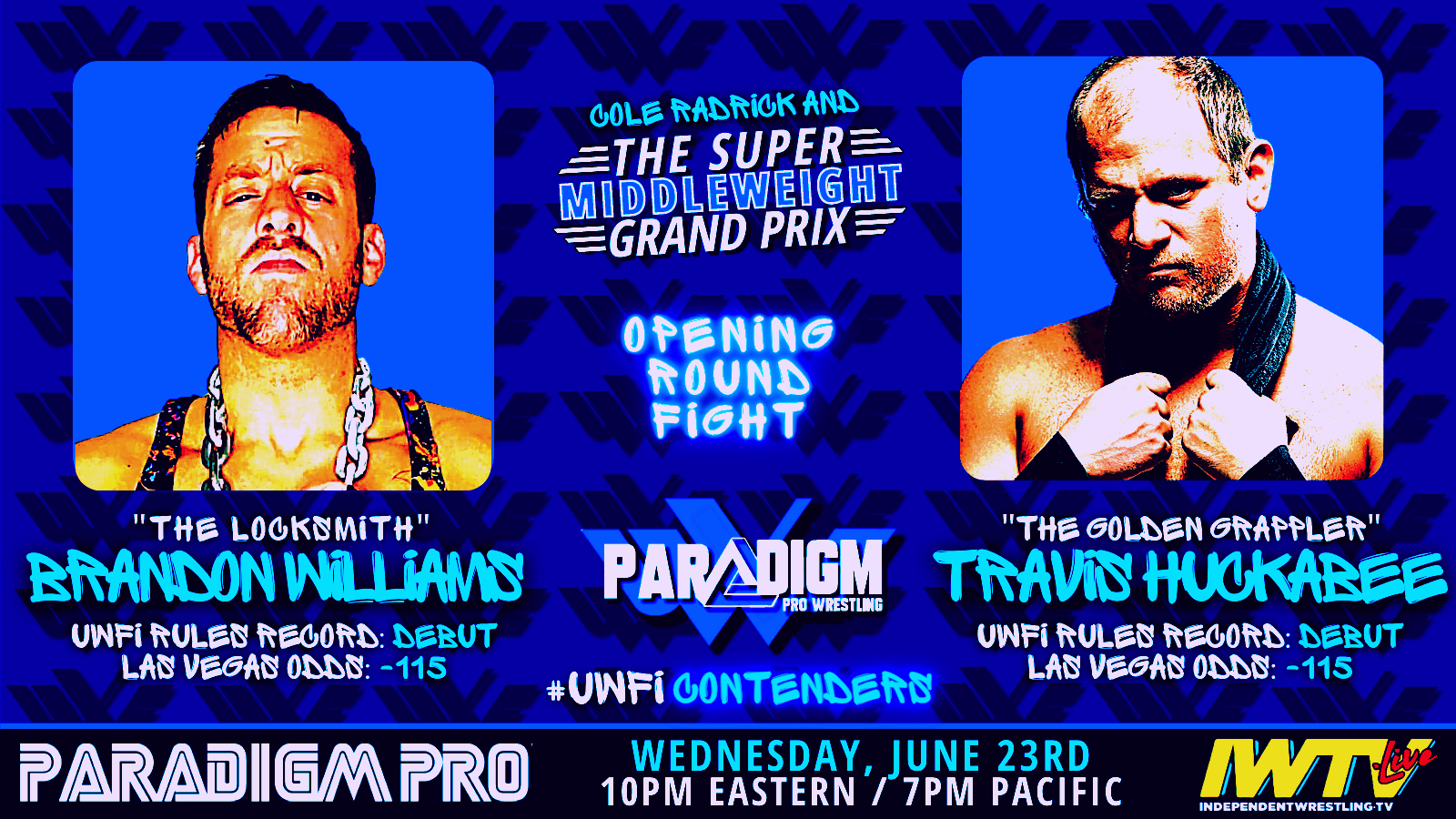 SELLERSBURG, June 23, 2021 – Paradigm Pro Wrestling and IndependentWrestling.TV (IWTV) are once again teaming up – this time to launch a three-part special edition of the UWFi Rules Contenders Series beginning today at 10 PM ET / 7PM PT.

The focus of the special edition will be Cole Radrick and the Super Middleweight Grand Prix, a 16 fighter tournament to crown the first UWFi Rules Super Middleweight Champion. First round matches will air tonight, with the quarter-finals airing on Wednesday, June 30th, and the semi-finals and finals airing on Wednesday, July 7th.

As implied by the name, every bout in the series is contested under UWFi Rules. Paradigm Pro Wrestling often utilizes a modernized version of the ruleset of the now defunct Union of Professional Wrestling Forces International promotion in Japan. UWFi Rules are essentially a hybrid of traditional professional wrestling and mixed martial arts. The key difference is that under UWFi rules, there are no pinfalls – matches may only be won via knock-out, TKO, submission, or points.

"This is being called some of our best UWFi Rules action ever. We had sixteen very hungry fighters looking to make their names. Plus UWFi original Billy Scott served as commissioner of the tournament, and held a training session for the tournament participants – in his words – this is shoot-style pro wrestling at the highest levels." said PPW co-owner Gary J. Wilson.

The tournament participants include former Paradigm Champions Cole Radrick and Freddie Hudson, jiu-jitsu fighters Jordan Blade and Damyan Tangra, New South representatives Brandon Williams and Kung-Fu Janela, Camp Leapfrog representatives Travis Huckabee and Molly McCoy, amateur wrestling standouts Cody Lee and Nick King, muay thai fighter Lexus Montez, former AIW Tag Team Champion Nasty Russ, Zero-1 USA Jr. Heavyweight Champion Victor Analog, deathmatch fighter Phoenix Kidd, and the high-flying Jaiden. 

The June 30th and July 7th episodes will also include non-tournament UWFi Rules action featuring 2019 Grand Prix Champion Dominic Garrini, Billy Scott's top student Braedon Ward, The Lost Boys ("Hoodfoot" Mo Atlas, Chase Holliday, Adam Slade), The Von Engelands (Sidney and Eden), Max Zero, Jeffrey John, and others.  

PPW became the first promotion to use the UWFi rule-set and point system in the United States in 25 years in November of 2019 at the first Fighting Spirit Heavyweight Grand Prix. Since then, UWFi Rules bouts have been a key component of Paradigm Pro events. 

UWFi Rules Contenders Series returns tonight at 10 PM ET / 7PM PT on IndependentWrestling.TV, the world's largest library of independent wrestling. Subsequent episodes will premiere for the next two Wednesday thereafter on IWTV at 10 PM ET / 7PM PT.

The streaming service IWTV is available on Roku, Amazon FireTV, Apple TV, iOS, Google Play and more. Seasons 1 and 2 of the series are also available for on-demand viewing.


About Paradigm Pro Wrestling
Founded in 2017 and based in the Louisville, KY, metropolitan area, Paradigm Pro Wrestling (PPW) presents professional wrestling events with an emphasis on the shoot-style, hardcore, and high flying genres of the sport. All shows are filmed for international distribution on the IndependentWrestling.TV streaming network. PPW fighters have competed on the largest stages in professional wrestling and MMA including the WWE, UFC, All Elite Wrestling, Ring of Honor, Bellator MMA, EliteXC MMA, New Japan Wrestling, and Major League Pro Wrestling.