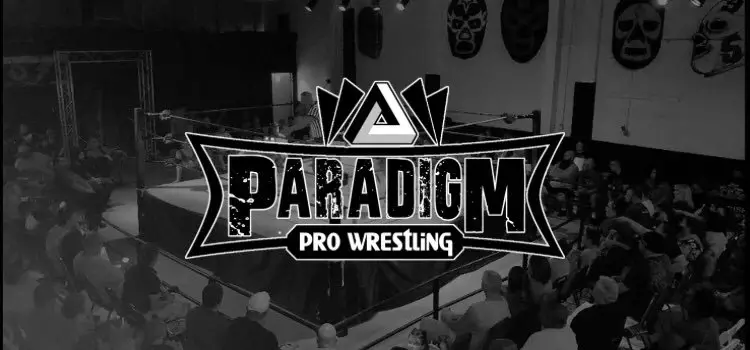 Paradigm Pro Wrestling and IndependentWrestling.TV (IWTV) will debut the second season of their Japanese-inspired hybrid profession wrestling and mixed martial arts series, the episodic UWFi Rules Contenders Series beginning next week on Wednesday, March 24th at 10 PM ET / 7PM PT.
The March 24th episode will be headlined by MLW Star Dominic Garrini facing Bruiser Brody Memorial Award Finalist Matthew Justice, while the March 31st episode will be headlined by UFC veteran "Filthy" Tom Lawlor taking on bareknuckle fighter Lord Crewe. Other featured competitors include Bellator MMA Veteran "Weapon X" Matt Makowski, Brazilian Jiu-Jitsu Black Belt Dustin Leonard, USS National Qualifying Strongwoman Max the Impaler, and PPW Heavy Hitters Champion "The Hoodfoot" Mo Atlas.
"Our goal is to produce one of the hardest-hitting, fastest paced professional wrestling series of all-time. We've assembled a roster of top independent wrestling stars, MMA fighters, jiu-jitsu practitioners, kickboxers, and even some boxers and pitted them against each other. This series is unlike anything else airing on television or streaming services"  said Paradigm Pro Wrestling co-owner Gary J. Wilson.
The series will air for six straight weeks, and each episode will feature five to six fights. A unique aspect of the series is a sports-first manner of production including tale of the tapes and won/loss records, as well as a cyberpunk synthesizer score provided by Karl Casey at White Bat Audio. 
As implied by the name, every fight in the series is contested under UWFi Rules. Paradigm Pro utilizes a modernized version of the ruleset of the now defunct Union of Professional Wrestling Forces International promotion in Japan. UWFi Rules are essentially a hybrid of traditional professional wrestling and mixed martial arts. The key difference is that under UWFi rules, there are no pinfalls – matches may only be won via knock-out, TKO, submission, or points.
PPW became the first promotion to use the UWFi rule-set and point system in the United States in 25 years in November of 2019 at the first Fighting Spirit Heavyweight Grand Prix. Since then, UWFi Rules fights have been a key component of Paradigm Pro events, and the promotion has expanded the match type to also include women's bouts and intergender bouts. 
"At Tom Lawlor's request, we'll also be featuring Tag Team UWFi Rules Fights this season. A feature of the original Union of Professional Wrestling Forces International, we believe we are the first promotion to attempt a Tag Team UWFi Rules Fight in the United States in over 25 years," said Wilson.
Season Two of the UWFi Rules Contenders Series premieres Wednesday, March 24 at 10 PM ET / 7PM PT on IndependentWrestling.TV, the world's largest library of independent wrestling. Subsequent episodes will premiere every Wednesday thereafter on IWTV at 10 PM ET / 7PM PT. The streaming service IWTV is available on Roku, Amazon FireTV, Apple TV, iOS, Google Play and more.

New users can use promo code PARADIGM for a free trial.

CLICK HERE TO ACCESS OUR DIGITAL PRESS KIT FOR THE UWFi RULES CONTENDERS SERIES – INCLUDES PHOTOS, EPISODE PREVIEWS, MATCH GRAPHICS, AND MORE. 
 
About Paradigm Pro Wrestling
Founded in 2017 and based in the Louisville, KY, metropolitan area, Paradigm Pro Wrestling (PPW) presents professional wrestling events with an emphasis on the shoot-style, hardcore, and high flying genres of the sport. All shows are filmed for international distribution on the IndependentWrestling.TV streaming network. PPW fighters have competed on the largest stages in professional wrestling and MMA including the WWE, UFC, All Elite Wrestling, Ring of Honor, Bellator MMA, EliteXC MMA, New Japan Wrestling, and Major League Pro Wrestling.
UWFi Contenders Season Two Complete Roster
UFC veteran Tom Lawlor, Bellator veteran Matt Makowski, MLW Star Dominic Garrini, Bruiser Brody Memorial Award Finalist Matthew Justice, Paradigm Pro Heavy Hitters Champion "The Hoodfoot" Mo Atlas, Brazilian Jiu-Jitsu Black Belt Dustin Leonard, Catch Wrestler Robert Martyr, Folk-Style Standout Nick King, Indiana Golden Gloves Champion Flash Thompson, former pro boxer Isaiah Broner, Death Match Sensation AKIRA, Submission Grappler Jordan Blade, Contenders Season 1 Standout Austin Connelly, former Paradigm Pro Champions Cole Radrick and Freddie Hudson, Virginia All-State Wrestler Yoya Shooterweight, 3x H20 Champion Ron Mathis, Former Collegiate Wrestler Alex Kane, multiple-time IWA-MS Champion Aaron Williams, Crux Wrestling Academy Founder Kerry Awful, Bareknuckle Fighter Lord Crewe, KOBK Member Hardway Heeter, British Chain Wrestler Sidney Von Engeland, MidwestTerritory.com Champion Chase Holliday, 20 Year Indie Veteran Appollo Q. Starr, 44OH Member Bobby Beverly, Muay Thai Kickboxer Lexus Montez, Son of a Legend Ron Bass Jr, Bulgarian native Damyan Tangra, Hardcore Wrestler Phoenix Kidd, and USS National Qualifying Strongwoman Max the Impaler. 
Be sure to join our
WWE / AEW Discord server
and connect with other pro wrestling fans.
---